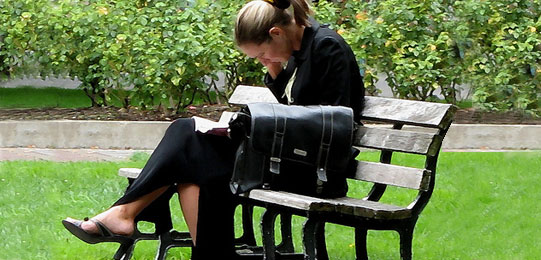 Trading Sneakers For Skirts: Returning to the Workforce
Photo by: Arthuralex
I have a full-time job. But future employers won't find it on my resume, and my current employers won't give me recommendations. I earn no salary, and I don't get sick days. If I'm lucky, I'm allowed vacation days, but I have to bring my work with me. The job requires no formal education, no background checks, no prior work experience, and no dress code. It's the most challenging position I've ever had, yet also the most rewarding.
What is my occupation? I go by many titles, but I prefer Domestic Engineer or Household Commander in Chief. Stay-At-Home Mom is false advertising because I rarely stay at home. And Housewife is antiquated and downright insulting. Clearly, I'm not married to my house. I'm also not a fan of Homemaker, Soccer Mom, or Mistress of the House. You can call me what you like, but don't ever accuse me of not having a "real" job. This profession is real, and it isn't for the faint-hearted.
Although I love my job, I feel it's time to move on. With one child thriving in school and another more than ready for social interaction with age-appropriate peers, I realize my employers no longer require my services on a full-time basis. On a personal level, I have to admit I'm craving fulfillment in another venture.
The prospect of returning to the workforce is frightening. Although my current little bosses are demanding and their needs dictate my daily schedule, they are ultimately quite forgiving when I make mistakes or occasionally show up late for work still wearing my pajamas. They didn't hire me, and as much as they may try, they can't fire me. I can't say the same for employers in the real world.
So what's a Domestic Engineer to do when she's ready to cut back on her hours and pursue a vocation elsewhere? She weighs her options, polishes her resume, and fights her nerves during interviews. And if she's anything like me, she contains her mixture of fear and excitement as she calmly and professionally accepts a job offer from an employer who never questioned the fact that she spent the last 6 years wearing sneakers and ponytails, changing poopy diapers, and singing along with Dora the Explorer.
As I mentally prepare myself for my new job, I wonder how my life will change. Will I have the time and energy to give my loved ones the attention they've grown accustomed to? Will my weekends be spent playing catch-up as I use my days off to complete the tasks I normally do during the week? Will my time away from the kids make me a better mother? Will I have any time to myself?
I also think about how will my career shift will affect my family. Responsibilities that once fell solely on my shoulders will have to be shared with my husband, and the children's schedules will have to adapt to fit mine. Everyone in the house will have to chip in to compensate for the hours I won't be clocking in at home. It will be a major life change not only for me, but for all of us.
I value my experience as a Domestic Engineer. I'm certain that the work ethic, patience, and creativity I've learned through intense on-the-job training have prepared me for the new job I am about to start. I know that when my first day of work rolls around and I trade in my sneakers for skirts, I will embark on this new endeavor with the confidence that I did the best I could as a full-time Domestic Engineer and performed my duties with the utmost dedication and love. Will I miss it? Absolutely. But I remind myself that I'm not quitting my old job, I'll simply be doing it part-time. This chapter of my life may be ending, but the storyline will continue through many chapters to come, just with a new character added to the mix. And I can't wait to turn the page and find out what happens next.
Wife on the Roller Coaster is a domestic engineer, teacher, freelance writer, and proud military spouse. She blogs about her adventures in parenting and her marriage to the military at Riding the Roller Coaster.