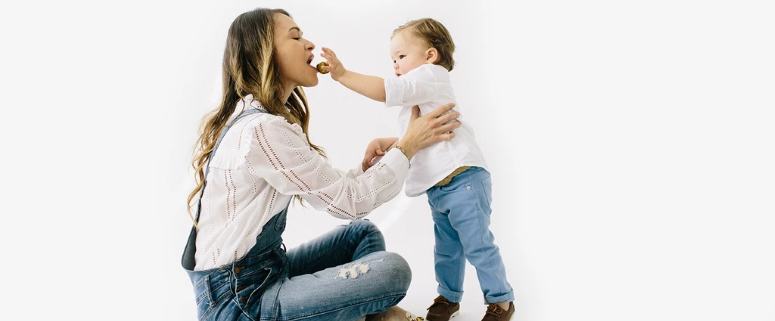 Postnatal Depletion: What it is and how to recover
Photo by: https://www.lovemajka.com
Postnatal depletion is a condition that over 50% of women struggle with after giving birth. However, many women aren't aware of their susceptibility to postnatal depletion, what it is, or how to heal it.
So what is postnatal depletion?
Postnatal depletion can occur after giving birth and while breastfeeding. According to Dr. Oscar Serrallach, family practitioner and inventor of the term postnatal depletion, a mom's body gives up her own nutrients in order to support the growth of her baby. When these nutrients aren't replaced, postnatal depletion may occur.
Although postnatal depletion occurs as a result of having a baby, there are many different factors that can prolong the postnatal depletion period.
Poor Nutrition
The foods you eat impact your postpartum recovery and health. When your body isn't getting the nutrients it needs to thrive, postpartum mothers may begin to suffer.
Lack of Sleep
It's no surprise that your sleep schedule may shift with a newborn baby in the house. Lack of sleep can leave you feeling tired and depleted.
Societal Pressure
Moms juggle everything. The expectation to be a perfect mother can build up, leaving us feeling exhausted.
Who Is Most Likely To Experience Postnatal Depletion?
-Mothers who have 2+ children
-Moms who have children less than 3 years apart (it typically takes the body 2-3 years to recover between pregnancies)
-Mothers who have restricted access to nutritious food
In today's world, almost every woman will experience postpartum depletion to some extent.
What Are The Signs Of Postnatal Depletion?
-Fatigue
-Unintentionally falling asleep
-Emotional exhaustion
-Mood swings
-Brain fog or "baby brain"
-Feelings of guilt or shame
Symptoms of postnatal depletion may occur during pregnancy and symptoms can linger for up to a decade after giving birth. Yes, a decade!
More than half of mothers experience postnatal depletion. If postnatal depletion isn't tended to, moms can experience physical, mental, and emotional symptoms, including postpartum depression.
So, how can you fight postnatal depletion?
Focus On Your Nutrition And Postnatal Vitamins
A lack of nutrients is the primary factor in postnatal depletion. So, eating well, staying hydrated, and eating essential postnatal vitamins is key to recovery. In order to rebuild our strength and kickstart the recovery process, we must fuel our bodies with the right nutrition.
According to Dr. Serrallach, mothers are often deficient in or lacking iron, vitamin B12, zinc, vitamin C, vitamin D, magnesium, and copper.
One way to get your body and nutrition on track is to incorporate a natural supplement or postnatal vitamin that focuses on the restoration of postpartum mothers. A lactation protein powder can infuse your body with nutrients and postnatal vitamins, which stem from whole foods that can also promote lactation!
Restore Your Body Physically And Mentally
The body and mind are interconnected. Here are some tips to best recover your body and mind post-birth:
Get enough sleep. While you will inevitably wake up during the middle of the night to tend to a crying little one, when you are able to sleep, do what you can to make the environment fitting to have a good rest. Fill your room with calming colors and ambient noise. This will help train your mind to view the bedroom as a sleep haven.
You may even consider taking an extra nap throughout the day, hiring a babysitter so you can sleep, or even trading time looking after another mom's kids so that you can both have the downtime you need.
Learn to relax. You may think sitting on the couch watching television is relaxing, but while we do this, our minds are still busy humming with thoughts. Learning to relax through techniques like yoga or meditation will help clear your mind and replenish your body, whether it's attending a yoga class, sitting in bed for 10 minutes focusing on the breath, or finding a ritual that makes you feel good— like writing, for example.
Most importantly, however, is finding your support system.
Asking for help—or hiring it!—when you need it is essential to give yourself a sustainable balance. Whether you find a babysitter for the night, call on grandma for help, or meet up with a group of new mothers every month, make sure you find people who can help provide a web of support. Taking a night to reconnect with your hubby, socialize with friends, or even spend time alone can give your body the emotional and physical refresh it needs to fill your own cup.
In addition, becoming a mother is a huge transition — whether it's your first time or not. Seeking professional help to keep your mental well-being is a great option. If you're not feeling yourself seeking an outside opinion can give you the tools you need while you are replenishing your body.
You've got this, mama!
Postnatal depletion affects so many women — and it looks different for everyone. Your body built a human over nine-plus months and recovery will be a slow but steady process to regain your full vibrancy and energy, especially since you are feeding that tiny human, too! Although we try our hardest to push through the physical and mental exhaustion that comes postpartum, we don't have to act so tough. The best thing we can do for ourselves is focus on healing our bodies after birth.
Brooke has been writing for over three years now, focusing on the wellness space. She is a wellness coach, guiding women to health and happiness through diet, herbs, yoga, breath, and meditation.
The photo accompanying this article appears courtesy of LoveMajka