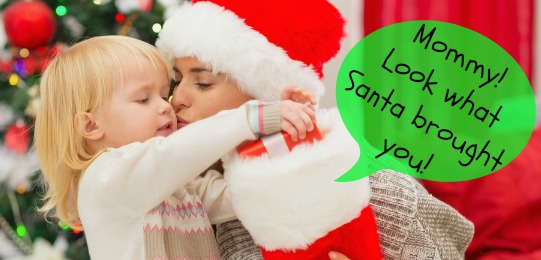 Presents? Or Presence?
Photo by: Shutterstock
When my oldest daughter was five-years-old she began a new family tradition. As soon as the stockings were up (the day after Thanksgiving, naturally), she would swipe items from around the house and gleefully deposit them in each family member's hanging stocking.
It was adorable. The first time.
Pretty soon, this activity became somewhat tiresome; as I was trying to prepare dinner, I'd hear yet another proclamation that "Santa had come!" and I'd dutifully put down my whisk and join her by the mantel. It was hard to resist the excitement in her eyes, and I would always do my best to muster up the proper enthusiasm to exclaim over the half-used bottle of moisturizer, stained coaster and burned out tea light, that had appeared in my own childhood stocking.
On one occasion a sippy cup of milk made its way into her baby sister's stocking and I had to break character to give her a little reality check. Perhaps next time, "Santa" could refrain from stuffing our stockings with liquids and perishables?
The most memorable "gift" involved a sleepy Daddy unwrapping a bottle of KY jelly that our daughter had pilfered from Mommy's nightstand. Oops.
As this year's holiday season descends on us I find myself eagerly anticipating the joy and innocence of my daughters' responses to our beloved holiday traditions.
Now that my youngest is two years old, I have no doubt that her older sister's enthusiasm will be contagious. She too will look forward to driving around with spill-proof mugs of hot chocolate, searching for the best neighborhood holiday light display. She will enjoy opening a new door of the Advent calendar every morning. She will squeal when a new batch of wrapped gifts appear under the tree. And (sigh) she will likely insist on the "stocking stuffer" game being played over and over… and over.
So what's a weary mom to do?
As always, I walk a fine line between diligently juggling my own to-do list and refraining from crushing their spirits. Sure, I'd much prefer to focus on the laundry I'm supposed to be folding, the emails I need to return, or even the novel I'd love to open and read in peace (a girl can dream, right?). But how am I supposed to tell them that "Mommy is too busy to come see what Santa brought."?
Which brings me to one of my greatest parenting challenges – staying present.
I am frequently occupied by the chatter in my head about what needs to get done, what I forgot to get at the grocery store, and which night is the dance recital among a thousand other things. I think many (most?) mothers struggle with this curse of multi-tasking and the masochistic aspiration to "have it all." We simply have too much on our plates, which leaves us often doing several things at the same moment.
The idea of sitting down to watch our excited children open their self-stuffed Christmas stocking for the fifteenth time today feels like a luxury that we can't afford.
But they won't believe in Santa forever. My oldest, now seven, doesn't have many years left. So this year, I will set down the laundry basket, stash my iPhone in another room, and sit down with them while they open their presents. Again. Perhaps their wonder will rub off on me. Probably my own distraction-free presence is the best gift I can donate to their game. To-do list be damned.
Stephanie Sprenger is a writer, music therapist, and mother of two young girls. She blogs at Mommy, for Real about the imperfect reality of surviving the daily grind with kids, and is the co-editor of the new friendship anthology, The HerStories Project; Women Explore the Joy, Pain, and Power of Female Friendship . She can also be found squandering her precious free time on Facebook and Twitter.