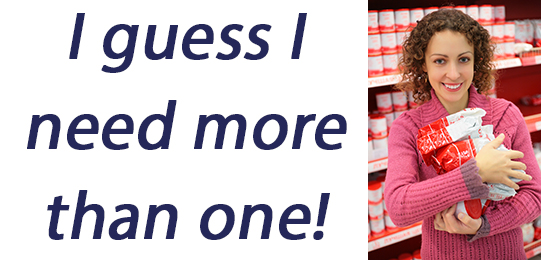 Pay More, Get Less
Photo by: Shutterstock
I've gone through different stages in my life when it comes to cooking. When I lived in my very first apartment, it was just to eat. So I'd boil the hell out of vegetables, over cook noodles, it was a disaster. And I didn't care. Places to go, things to do.
When I first got married, cooking became fun for me. I wasn't working so I had more time to think about it, plan, shop, and experiment. That was the time that I enjoyed cooking the most.
And one of the things that I loved about cooking (and baking) is that I had so many of my mom's recipes to start with. Most I made "as is." But as I became more comfortable with ingredients and processes, I changed many, too.
Now – thanks to attempts to get more money from consumers while providing them with less product – many of the old recipes from my mom need to be reworked, because so many of them called for 'a can of this' or 'a package of that,' but if a can used to be 16 ounces…and then 15 1/2 ounces…and now is 15 ounces, what does that do to the integrity of the recipe? I won't be buying two cans just for another ounce, so you can cross that genius marketing tactic off of your list.
And that got me thinking about some other items I've seen on the shelves lately that are, in my opinion, a thinly veiled attempt at pickpocketing:
Aerated chocolate: I thought this was a joke, but it turns out it's not. They've taken chocolate bars, replaced some of the chocolate with air, and sell them at the same price as the original chocolate bars. This makes sense to whom? Just for the record: aerating is for lawns.
Boxes of snack cakes where the cakes are wrapped in twos: So your kid opens the little cellophane packet and there are two cakes in there. What to do? Either the kid's gonna eat both or blood's about to spill trying to get that second one out of their tightly clenched fist to wrap up for another time. Pass.
10 calorie sodas: I drink a lot of soda and I don't drink the full sugar ones. I have my favorite diet sodas and I stick to those. So, now you want me to try not your "new" product, yet another version of the exact same sodas, just with more calories added back in? Like that's gonna happen.
New 'family-sized' packets: I used to buy packets of, well, pretty much anything that looked interesting to make as a side dish and would feed the family. Lately, those packets have gotten smaller and smaller. Now the companies have "introduced" family-sized packets. Basically, they're about the size that the miniscule packets used to be, but guess what? They're almost double the price. Umm . . . no.
Shampoo: Deceit at an even higher level. Have you looked inside your shampoo bottle lately? I made that mistake. I thought that just because the size of the bottle hadn't changed that I was getting the same amount. Think again. The bottle's the same size, but it's only 3/4 full. Check the number of ounces listed on the bottom of the bottle, if you can read it.
Then there's make-up, laundry detergent . . .
It all gives new meaning to that old potato chip commercial, "Bet you can't eat just one." Of course, now we can actually eat just one. That's all they're putting in the bag.
So, that's my rant about how far your money is no longer getting you. Back to reconfiguring all of my recipes, thank you very much…
Chicken Pasta in Tomato Cream Sauce
Ingredients:
2 T. Vegetable Oil
1 zucchini, cut in half lengthwise, then sliced
1/2 lb. mushrooms, quartered
2 cloves garlic, minced
1/2 onion, chopped
1 lb. boneless, skinless chicken breasts, cut into bit- sized pieces
Garlic powder
1 can (14.5 oz.) diced tomatoes
Salt
Pepper
1 t. Italian Seasoning
1/3 C. heavy cream
Parsley
1 lb. mostaccioli, cooked al dente
Directions:
-Heat oil in pan at medium heat. When hot, add zucchini, mushrooms, garlic and onion. Cook until the onion is soft. Remove to a plate.
-Add chicken to the pan. Sprinkle with garlic powder and saute' until chicken is cooked through. Add the veggies back in.
-Add the canned tomatoes, salt and pepper to taste and the Italian Seasoning. Bring to a boil, and allow to boil for 10 minutes.
-Turn down the heat to low and add the heavy cream. Once completely incorporated, add the cooked mostaccioli. Stir until all ingredients are warm. Sprinkle with parsley.
Karen is a SAHM of two teens who bakes to relieve stress and to feed the pile of kids who apparently can smell cookies baking from miles away. She blogs on her site to keep from spending all of her time doing the days-till-college countdown. Karen's work has also been featured on the websites "Scary Mommy" and "Treat a Day," and is published in the "Life Well Blogged" series of books. For more great recipes, visit her site, Baking in a Tornado.