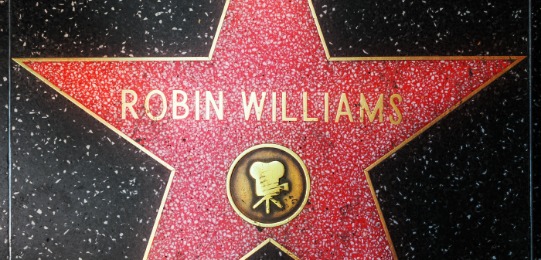 Oh Captain, My Captain: Mourning Robin Williams
Photo by: iStock
Back in '09 I left a Pampered Chef party at my mother-in-law's house to go pick up pictures I ordered. When I sat down next to the photographer, she began to weep, and she was having a difficult time concentrating on my order. When I asked if she was okay she shook her head.
"No," she said, rummaging through her purse for a tissue.
"Would you rather I come back another day?"
"No, I'm just sad. I can't believe he's dead." She said.
I looked at the woman like she was crazy for a minute. Did I miss something?
"Didn't you hear?" she asked, her eyes bulging out of her head. "Michael Jackson died."
I admit, I thought she was a little nutty. Unless she knew Michael Jackson personally, I thought her grief was over the top. God laughed at me and put me in my place on Monday.
When I opened my Yahoo feed I was slapped in the face with the news of Robin Williams' death. My first reaction was to quickly search so I could find out it was a hoax. This simply cannot be.
But it was. It is.
In that moment a wave of grief swept over me. No, I didn't know the man personally, though that would have been cool as hell. No, I didn't weep, but I did cry. I shed a tear for the comedic and dramatic genius who fostered in me a sense of humor, and a love for poignant movie moments since 1979.
As I read the internet stories I grew more and more eager to know details his death. Still too soon to report much more than the bare fact that he died by possible suicide, there little else to provide answers.
Robin Williams was open and honest about his struggles with addiction and depression. He never hid behind cliches or publicists. As fans, we had all the answers, and I guess we chose to think this funny man would always have a well of strength to keep him soaring through the stratosphere of fame.
But his well ran dry on Monday. He crash landed.
It wasn't until I read the tweet his daughter sent out into the world that I bawled like a baby. It was a quote from "The Little Prince" by Antoine De Saint-Exupery:
"You — you alone will have the stars as no one else has them…In one of the stars I shall be living. In one of them I shall be laughing. And so it will be as if all the stars were laughing, when you look at the sky at night…You — only you — will have stars that can laugh."
Beneath that, Zelda wrote:
"I love you. I miss you. I'll try to keep looking up."
I was at a loss. How should I remember this man who bounced into my life at the tender age of 5, dressed in a red jumpsuit, flying in an egg, and made me laugh, even though I was too young to get most of the jokes?
For decades, literally, he released movie after movie right around my birthday. Each year I'd scoop up someone to go see "My Birthday Movie", as I thought of it, as if the man made them just for me. It became my thing. My tradition. What to do?
The answer was simple. I gathered my sons. I made them turn off the video games. I fired up Hulu. And I began at the beginning. I introduced them to Mork.
As we sat on the couch, giggling at the nearly 40-year-old humor, I had an epiphany. Robin Williams left us not just the legacy of an artist. He left us an entire cache of grief-soothing-salve in the form of Mork, Mrs. Doubtfire, and Adrian Cronauer. He left us catharsis in movies like Awakenings, Patch Adams, and Good Will Hunting. We could still commune with the spirit of this short, furry and funny man.
As I searched through the boxes of DVD's pulling out every Robin Williams movie I own, I heard my computer dinging with replies to my posts about the sadness of this news. I quit my search, sat down to Facebook, and saw post after post of folks who felt the same way I did.
My last epiphany of the evening wasn't a pleasant one.
He was loved by more than just his family. And still that love wasn't enough to save him from the demons that haunted him.
So my wish, if I get one, is that Robin Williams finally finds the peace he so desperately needed while he was here. My wish is that, after his crash landing, he was lifted up and surrounded by our outpourings of love for a man the majority of us didn't know personally, but felt like we did.
Miranda Gargasz is a writer from a small suburb outside Cleveland, Ohio. She is a contributor at What the Flicka? and The Huffington Post. In February of 2014, she published her first collection of essays entitled 'Lemonade and Holy Stuff'. You can read more on her Blog, or follow her on Facebook and Twitter.