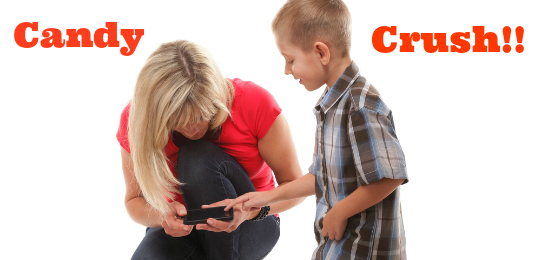 Nursing A Crush
Photo by: Shutterstock
Eight.
I am nursing a baby and an addiction to Candy Crush.
Seven.
1:52am. Cooper's gasping swallows of milk are the soundtrack, iPhone on silent. This level has bombs and chocolate. I have been stuck for two weeks, the bombs counting down to my demise. Cooper breaks away, roots desperately but won't latch on again. I am being motor-boated by a baby.
Six.
Earlier today, this utterly macabre scene: I was chasing Sawyer and Lincoln trying to break up a fight, Cooper still dangling from my breast, cupped in one arm. This is why we keep the blinds closed.
Five.
Beside me, Rob rolls over, groans. For a moment, I am envious of his sleep. Bleary-eyed, I am up for the second time, another feeding still to come before dawn. Then Cooper sighs a sound as delicate and beautiful as an iridescent bubble, there and gone. I am glad I was awake to hear it.
Four.
A new book idea has come to me, as they tend to do when I have one yet to finish. I am aching to put words to page, fingers to keys. The characters are stomping and grumbling around the attic of my brain. This will be the one—I know it.
But lately Cooper has been fussy after nursing, comforted only when I hold her, if then. She spends the otherwise quiet evenings sprawled across my lap, stirring and groaning. I can hardly write a blog post, much less the great American novel, one-handed.
Three.
My game is on hold as I try to burp Cooper over my shoulder. I will lose this one: too many bombs, too few moves left. I pat, I pound. Finally, a burp with a bonus spit-up down the front of my shirt. Bullseye. I consider my options, then wipe off the front of my tank top with her pink-striped blanket. I'll take a shower tomorrow. Or the next day.
Two.
"I'm overwhelmed—the laundry. The dishes. Everything," I told Rob's mom that morning. "It's like it never stops."
"Oh, it doesn't," she said with a smile.
"You're supposed to say that it gets better. That it ends."
"One day it will. They will be grown and gone. Then you'll wish you still had the mess."
One.
I could put Cooper in the bassinet, but instead lay her in the crook of my arm while I finish my game. I have five moves left, but a candy bomb set to explode on the next turn.
For years, I didn't want kids—the commitment, the time, having to give up so much. The crying, the lack of sleep. Something I never knew: the smell of new baby in my arms, on my skin.
I try to line up the colors, the bomb flashing out its warning. This loss, I don't mind. In three hours, Cooper will stir me awake and I will look forward to this.
Kirsten is an avid pickle-hater, mom of boys, wife to a youth pastor, writer, and when not pregnant, plays roller derby. You can read more about her on her blog, Still Hate Pickles.