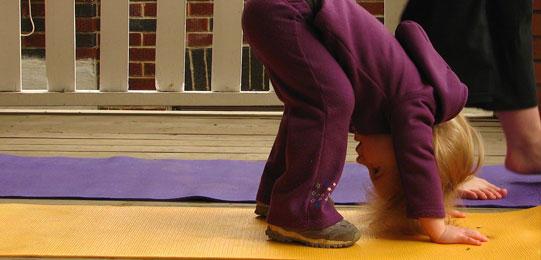 Namaste: Yoga For Youngsters
Photo by: Chickpea
On a recent Tuesday afternoon, twelve kids under the age of six are dancing and waving scarves to the classic Muppet tune Mahna Mahna. When Nicole Koleshis, the only adult in the room, says "freeze" they all stop in their tracks. Then, upon her direction, take their place in a circle at the center of the room. Many adults would hesitate before accepting charge of a dozen young kids for almost an hour in a confined space. But Koleshis, a children's yoga teacher and occupational therapist in Seattle, has found her calling.
Koleshis has taught yoga to children for the past seven years, including those she encounters in her work as an occupational therapist for the Seattle School District. She considers it an essential part of her therapeutic intervention when working with children on the Autism Spectrum and those with developmental delays. "Yoga not only has the potential to improve one's motor skills, but it also provides strategies for increased focus and concentration, as well as relaxation techniques, that can be carried over throughout the school day," Koleshis explains.
Koleshis teaches three kids classes a week at Lotus Yoga, a thriving yoga studio located on the quaint main street of Columbia City, a neighborhood in the south of Seattle. Her students arrive about ten minutes prior to class to sign in, and then spend the remaining time taking off their shoes and socks and munching a quick snack. When Koleshis announces with a smile that class is about to begin, there's a scramble to gather before the glass door that leads to the studio.
"Please use your 'walking feet' to go get a yoga mat," she reminds her students. "Only half actually use their walking feet," Koleshis laughingly explains. "Sometimes I need to offer gentle reminders, but this is what teaching kids yoga is all about—planting the seeds necessary for patience, listening, and acceptance in hopes of fostering strength and flexibility of the mind and body."
Inside the studio, thriving plants line the windowsills and sunlight bounces off the yellow walls to spill onto the bamboo floors. The children each take a mat from wooden shelves in the corner and Koleshis helps arrange them in a circle on the floor. The kids sit cross-legged then look expectantly towards their teacher. "Ring, ring" she says, bending at the knee to improbably pull her foot up to her ear. "Foot phone," the kids reply, giggling and tumbling over as they attempt to do the same.
Yoga for children is clearly on the rise. Yoga in Motion — a DVD by Shakta Khalsa aimed at making yoga accessible to children — was the recipient of the Mom's Choice Award for 2009. Khalsa, founder of the Radiant Child Yoga Program, provides a comprehensive training program for would-be instructors of children's yoga throughout the United States and abroad, and claims that the size of her classes have increased tenfold since opening in 1999.
Lotus Yoga is but one of a number of yoga studios in the Seattle area that have tailored yoga classes to the interest and abilities of children. Koleshis concentrates on combining activities already familiar to kids — storytelling, singing, creative movement, and the imitation of animals — with traditional yoga poses and deep breathing, which according to the American Yoga Association can "greatly help children learn to relax, concentrate, and reduce impulsiveness." Taking a collapsible jointed plastic globe Koleshis passes it from one child to the next, instructing them to inhale in as they balloon the ball to full size, then exhale as they collapse it again. "The emphasis," explains Koleshis, "is on fun."
Koleshis also incorporates books into her program, favoring those that present important or humorous messages and opportunities for further discussion. A recent reading of Bill Martin Jr. and Eric Carle's Panda Bear, Panda Bear, What Do You See? introduced Koleshis' young students to ten of the world's endangered animals. "We modified traditional yoga poses, incorporated creative movement, and practiced our yoga breathing to embody – among other things — soaring bald eagles, charging water buffalo and swimming green sea turtles."
At the end of class, Nicole leads her students in savasana or relaxation before offering them a magic carpet ride to the door of the studio where parents are waiting with open arms. It's a relatively soft transition back into the real world. "Each class is not only a learning opportunity for the kids, but also for me as a yoga teacher. Children always have been, and will continue to be, my greatest teachers. I'm in awe of their insightfulness and creativity, their ability to live in the moment. And their laughter is contagious."
Suzanne Beal is a Seattle-based writer and Editor in Chief at Little One Books. She has written extensively on arts, culture and family. Visit her at Little One Books