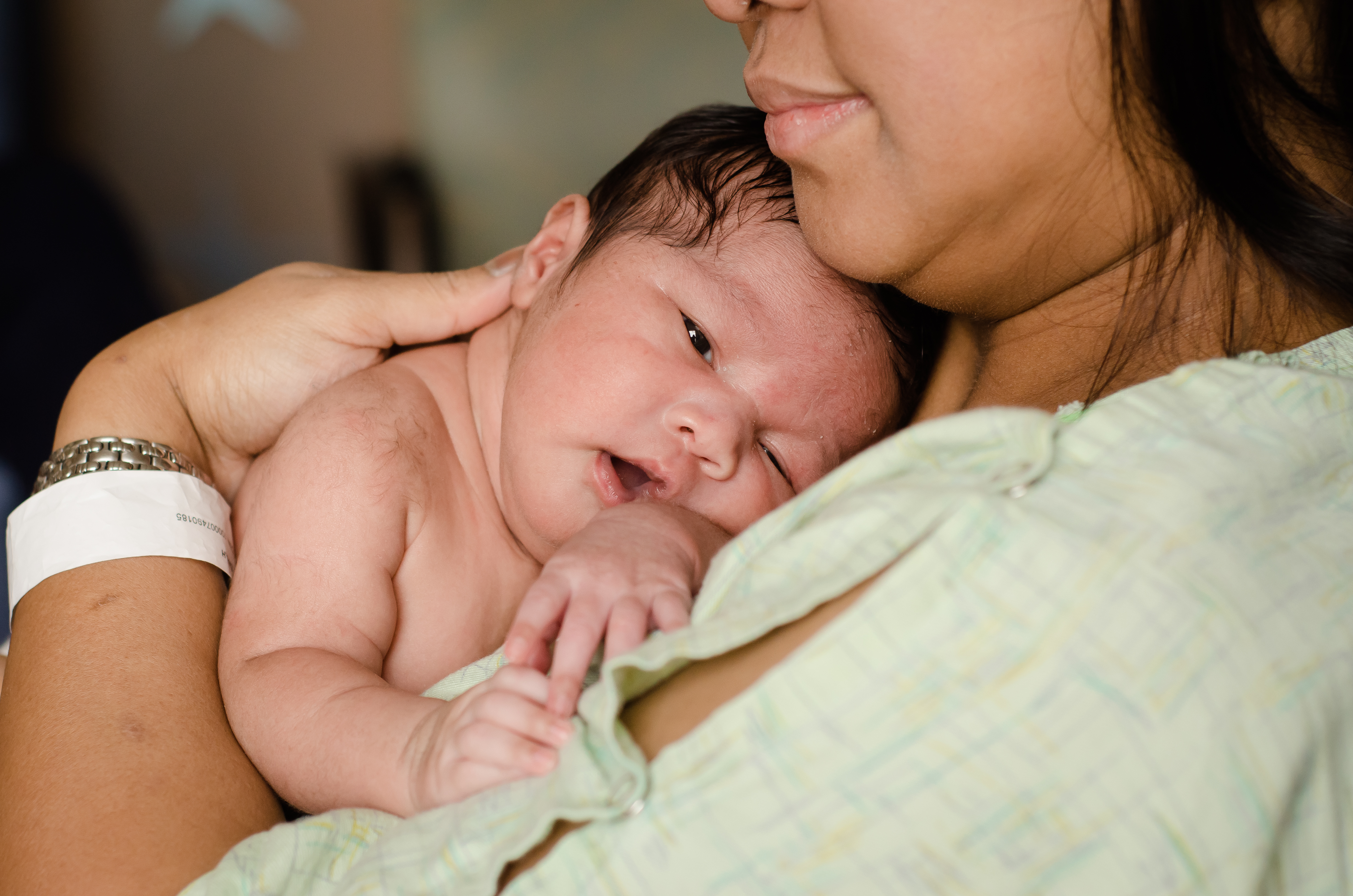 My Other Birthday (The Day My Life Began)
Photo by: Picture by Bella Baby Photography
It's taken me two years to write about what happened to me. But I remember it like it was yesterday. It's what made me love and appreciate life to the fullest, and to never take anything for granted. It's also the reason why I have vowed to love what I eat, and not settle for anything less. And also, it's the reason my husband and I will not be having any more children.
Saturday February 20, 2016: I was 36 weeks pregnant and working one of the busiest days of the year in my industry. My husband and 5 year old had caught the flu a week prior, so when I felt hot and cold and nauseous at work that day, I mistakenly thought it was the flu. My patients voiced their concern: "Hey, doc, you don't look so hot. Are you in labor?" I laughed weakly and said no, I'm fine. The day went from bad to worse, as I sat in the private office in a cold sweat with pains so bad I was wondering how I'd make it home. I asked my colleague to take up my patient load. I asked to leave early. I drove home somehow, weaving in and out of traffic fighting to stay awake and even picked up a pizza, but I was too sick to eat. I crawled into bed shivering and promptly threw up multiple times. I slept fitfully and woke at 1:00 am and thought I peed myself: my water had broken. I finally realized my febrile pain was not the flu. I was in preterm labor. My in laws rushed to the house within half an hour so my husband and I could head to the hospital.
3:00 am and the OB on call took one look at me and said calmly, "Well, now, young lady, we have no time for an epidural as baby is in distress. We will do a crash C under general (anesthesia) and you will be fine." I do not remember what happened next. Upon recovery: my husband texts me a photo he snapped of the baby before they took him away. He was almost full term and doing fine in the NICU. The strep B infection in my uterus had spread to him, so he needed to stay for antibiotic treatment and 24/7 tube feeding to increase his growth. I wasn't doing as well as he; my kidneys weren't working. My white blood cell count was through the roof. My labs were plummeting. The doctors wondered how I was able to be lucid and sit up. Words like "sepsis" and "multiple organ failure" were bandied about. With my healthcare background and education, I knew I should've been worried but I was too exhausted to care. I just prayed and trusted that I was in good hands in one of the best hospitals in the area, and that I was in America, where healthcare is supposed to be at its finest. My mother came, and my brothers. I was worried and afraid when I was transferred to the SICU for 24/7 intensive monitoring, because the SICU was reserved for patients in the direst of conditions, plus it was located in an entirely different building than where my baby was. My husband had to go home to our son and life at home had to continue on without me.
Thus began my 19 day harrowing journey of recovering from infection and a small bowel obstruction (a complication from an earlier emergency c section 6 years prior) which made it impossible to be fed by mouth. I was transferred to the maternity/oncology unit (finally I was in the same BUILDING as my baby) with TPN (total parenteral nutrition) since I was only fed intravenously. I had CT scans and X rays and blood draws every day. My arms were riddled with bruises where multiple needles and tubes resided. I had a nervous breakdown and called my husband, and I was heartbroken and jealous to hear that they were at the ice cream parlor getting treats. My physical pain was excruciating but I had to wean off the narcotics so my digestive organs could repair themselves and my c-section could heal.
Even though I could not eat or drink by mouth, my body was still working to produce milk for my newborn. Three times a day for an hour each time, I painfully pumped minuscule amounts of milk for my baby, and saved it to send to the NICU. When the pump yielded only droplets, I thought daily of giving up pumping but perservered somehow. To avoid needing additional surgery, I needed get out of bed, exercise and walk the halls every day, hoping my pain from my incision would be bearable. I kept vomiting green bile, so an N-G tube was painfully inserted through my nose into my stomach and attached to a machine for five long days so it could drain my stomach of bile. I recall an extremely mortifying incident when I was under the surgical drape (awake) during the insertion of a PICC line (peripherally inserted central catheter) into my jugular in my neck and I panicked and screamed "Please please please" until a nurse went under the drape to hold my face and remind me to breathe through the claustrophobic pain. My heart was enlarged for the first few days so they had to keep checking that too. During a 1:00 am CT scan, I panicked as the orderly left me in my gurney and I was alone waiting for transport for over 45 minutes in the still quiet that I imagined the morgue must feel like (I didn't know that hospital transport was arranged and scheduled in advance and the wait times can be lengthy late at night.)
I cried myself to sleep every night quietly so my mom in the cot next to me wouldn't hear. Days and nights blended into one, interrupted only by vitals checks every 3 hours. I braved the daily 6:00 am rounds when the surgical team would come in and cheerfully assess my progress: "Hang in there, one more day!" Every day I would ask the nurse to help me first via wheelchair then on my own two feet with my IV to another floor to visit the NICU. During the last few days of my stay, I was cleared to slowly begin drinking and eating by mouth, and the slow introduction of food and water was excruciating … in a moment of realization I imagined this is how POWs or people shipwrecked on an island must feel when they're first given a sip of water after days and weeks of nothing. It was the most excruciating pain I have ever experienced, even beyond labor pains. I remember the exhilarating joy of slowly sipping a tiny cup of apple juice over 8 hours and keeping it down. I continued to pray and hope.
I confess I peeked at my electronic chart once and was aghast at the details of how I almost died. (They don't tell you that stuff, FYI).
Some moments of joy: I was able to hold my baby for half an hour each time I visited. My best friend from high school worked nearby and she sacrificed her lunch hour to visit me and my baby in the NICU daily for over two weeks. My friends and relatives came to see me as they were able, driving in through the horrible Chicago rush hour traffic to reach the downtown hospital, bringing gifts and baby clothes. One friend from Florida who was in town (with her husband who was in treatment for a brain tumor) made time to visit me and held my hand and let me cry as we walked the halls together. I couldn't eat any of the treats my visitors arrived with, so I shared them with the nurses on my floor. I was pretty popular for a while! My 5 year old came on most days and was the picture of joy and health – he loved the hospital food tray I would order in advance (but could not partake). I threw him a pizza party on one of those days and though it was pure torture to be around all that food, his smile was my biggest reward. I bonded with my mom who was my strongest advocate (she was a retired RN) and she stayed by my side the whole time. My husband held up the fort at home with the help of his parents, and he made sure our 5 year old didn't miss a day of kindergarten. I made friends with the nurses on my floor and talked about shoes: apparently Dansko was a good brand for people on their feet a lot.
And the most bittersweet moment of all: my baby was cleared to go home finally BUT I WAS NOT. I was not discharged to leave with him. It felt surreal to have my husband meet us in the lobby (me in a robe hooked up to the IV) and watch him and my mom load our baby in the brand new car seat and head home WITHOUT ME. I was happy and sad and in pain all at the same time. Luckily, I was cleared to go home two days later, thirty pounds lighter, and ready to take on life as a mother of two. My milk came in and I was elated to be able to begin breastfeeding the moment I came home. I wept with joy when my baby latched and I felt like I was home. I had despaired that my milk had disappeared because of how long my baby and I were apart, but the milk came. Two years later, I am happy to report I am still nursing.
February 20 to March 10, 2016. I learned a lot about my capacity for pain and healing. I fought for my life for 19 days. That's 456 hours/27,360 minutes spent away from my family. I felt like my life had a restart button, and I was inspired to never settle for anything unless I truly loved it. To those who ask, "When will you have another baby?", the answer is "We are two and done, our home and hearts are full." The risks involved in another pregnancy and delivery are simply too great.
I consider the day I went home from the hospital, March 10, 2016 as "my other birthday," the day my life began again. I was gifted back the ability to do things I will never take for granted ever again: to hold and nurse my baby, to eat normal food, to sleep in my own bed, and to walk, even run, and perform daily activities without pain. I am thankful to the dozens of doctors and nurses who saved my life, and to my family and friends (online and in person) who kept my spirits up through it all.
Today, if I ever have a particularly difficult or painful day, I can look back on the hardship I survived after my child was born and tell myself, "You can do this. You CAN do this. You have been through worse. You were given a second chance. You lived to fight another day. There's a reason you survived."
At bedtime, as I nurse my youngest to sleep, my now 8-year old asks me to tell him my "hospital story," and how we brought his baby brother home. At each retelling, I am always grateful to end with "And they lived happily ever after."
To moms everywhere, especially to my own, I dedicate my story.
Sarah Manongdo-Joya is an optometrist, author, online entrepreneur, and mom to 8-year-old Michael and 2-year old Roman. She lives in Oak Park, IL with her husband and sons. You can visit her at her website, "SarahJoya.com"