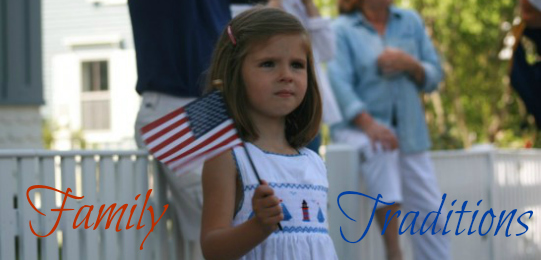 Family & The Fourth of July
Photo by: Lindsey Mead
I lean against my parents' white picket fence, surveying the tableau of red, white, and blue of which Grace and Whit are the center. The air is filled with waving American flags and the sounds of a marching band as we watch the Fourth of July parade. Grace is wearing a white dress with a red grosgrain ribbon around the waist and Whit is in khaki shorts and a blue and white gingham button down shirt. Homemade floats drive by: girl scouts dressed as mermaids, young sailors dancing to Jimmy Buffett, a local politician dressed up as Betsy Ross, rocking in a rocking chair and sewing a flag. People on the floats throw candy to the children on the sides of the road and Grace and Whit scramble for it. They each clutch a Ziploc bag which is quickly filling with tootsie rolls, gumballs, and small jolly ranchers.
For many years we have spent the Fourth of July here with my family, watching this same small-town parade, the night before with birthday cake (my mother's birthday is July 3rd) and the night of with fireworks. Traditions are the scaffolding on which our family life is built, and the Fourth of July is an important one. This celebration both anchors the summer and provides a perfect opportunity to reflect on how much has changed since we were last watching the parade.

I have pictures of Grace and Whit every single year since Whit was strapped to my chest in the Baby Bjorn. They are always wearing red, white, and blue and waving small American flags, always against my parents' white picket fence. Almost nothing brings home to me the truth of their growth like looking at the pictures side by side. When I do I can't deny the quantum leaps that occur each year.
The Fourth of July invites and, even, forces reflection. The comparisons are as sonorous as a gong.

I watch Grace and Whit watching the antique firetrucks roll by. Whit claps his hands over his ears at the sirens, and Grace glances back, catching my eye and smiling. Time compresses as I look at them, and I feel that familiar sensation of falling down the tunnel of memory. Images from years past race through my mind. I can see Whit in a blue-and-white smocked john-john and Grace in a dress with two embroidered red crabs on the front, can feel their toddler hands, sticky with ice cream, reaching for mine as they gaze, open-mouthed and dazzled, at their first fireworks. The ultimate cliché and most brutal truth of parenting rears up again in my mind: how can those days be already so long ago? They are so vivid, so present, it is as though every Fourth of July from the past throbs alongside this one.

The parade winds to an end, with its traditional caboose of tractors and working vehicles from the area and trail of walkers. I am humming America the Beautiful the rest of the day.
Much later, we watch the gathering darkness and discuss when to head down to the water. Whit is glued to the front windows of our house, hollering every time someone walks by. People come from towns all over to watch these fireworks. I watch him, genuinely amazed that he's no longer the four year old in a life jacket who sat on the deck of my parents' boat watching the explosions in the sky all those years ago. He was silent and absolutely still, as though he was afraid to break the spell that allowed him to be up at 9:30pm, later than he had ever been allowed. When did that toddler, with chubby starfish hands and a fondness for wearing Mardi Gras beads, become this tall, lean 8 ½ year old boy?
When it is finally time to go down to the fireworks, we walk down Main Street, and I take a child's hand in each of mine. Unbidden tears fill my eyes as I note that Grace's head is now easily at my shoulder and I feel overwhelmed by my awareness of how numbered these days are. Grace is wearing a white cotton sweater with a navy-blue G on the front, which matches Whit's navy blue sweater with the white W. How long will they consent to wear these, to match, to hold my hand walking down the street?
We sit on the concrete dock that juts out from the yacht club and tilt our heads up. Eventually the fireworks begin. They show is dazzling, with its sprays of color and deep, earth-shaking booms. After the show ended, as everyone around me got up, I sit there, watching the sky. Where there had been flashes of brilliant light, now there are traces of faint grayness, fading gradually to black. The space holds the memory of what had been, but tenuously, and only if you pay attention.
All day, the past has been pulsing in today's veins. I can see traces of so many parades, and so many nights watching these same fireworks, smudged against the bright sky of right now. And I do pay attention. I stand up, brush my palms on my white jeans, and take Grace's hand as we head for home.
Tell me, do you have Fourth of July traditions? I'd love to know what they are.
Lindsey Mead is a mother and writer who lives outside of Boston. Her work has been published and anthologized in a variety of print and online sources including the Huffington Post, the Princeton Alumni Weekly, Torn: True Stories of Kids, Career, and the Conflict of Modern Motherhood, and Literary Mama. She blogs at A Design So Vast and is also on Facebook and Twitter.