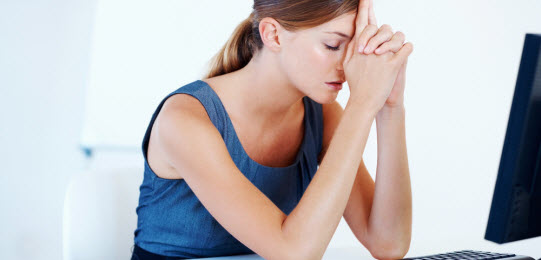 Crissie's Story
Photo by: Shutterstock
Please permit me to tell my story. I only share it in hopes that it may provide comfort to other women who are walking in my shoes.
—————————————————————————————————————————-
Even though I am 34 years old, my mom still loves to talk about how independent I was as a child. My high school years were tough for me. I didn't date a lot and never played "dumb" to appear more approachable. I excelled in both high school and college, ultimately graduating magna cum laude from Columbia College in May of 2000.
Later that same year, I married. I thought that all was right with my world. I had found someone who appreciated and loved me as I was, independent streak and all. We waited five years to have our first child, who was born perfect and beautiful in December of 2005. In March of 2007, I suffered a miscarriage that broke both our hearts. We persevered, and our second son was born in May of 2008. My life was complete…or so I thought.
February 21, 2009 dawned as a beautiful day. By all accounts, it should have been-it was my 31st birthday. I should have known something was amiss when my husband handed me my birthday present and card…
The gift was a movie, which would have been okay had it not been "wrapped" in the Walmart shopping bag it was purchased in. The card was just a generic birthday card, not the mushy "love my wife" or funny cards I was accustomed to from him. The movie title, too, spoke volumes: the 2008 horror film, "The Strangers." Even that, under normal circumstances, would have been acceptable because I mentioned that I wanted to see it, but the gift and card combined made me sense something was not right.
When I did not react with total praise for my present, an argument ensued. The words that came from my husband's mouth stopped me cold, and changed my world, forever.
"Crissie, I want a divorce.
"I am not happy"
"I want out."
To say that I was stunned and shocked would be a complete and total understatement. Sure, we had our disagreements. During the last few years, I often felt overwhelmed-working full time, caring for two small children under three, keeping up with housework, bills, etc. And I knew he had been acting strange. I'm not sure what I thought was wrong, but I had no idea how serious the problem truly was.
For one week, all of the blame for our marital problems was heaped on my shoulders and I took it. Anything to save my marriage. Anything. Then came the confession: my husband had reconnected with an old high school friend on Facebook and they were having an affair. Even the affair was blamed on me. After all, I was the one who encouraged him to join Facebook so he could find old high school and Marine Corps buddies. I took the blame.
I cried all of the time. I stopped eating and lost weight quicker than I ever had before (or since, truthfully). I could barely focus at work. After eight years of marriage, while I was still pretty independent in some ways, I had begun to think that I literally could not function or live without my husband, being married. My marriage defined me, was part of me. And I didn't know how to handle losing that part of myself.
The months that followed were difficult, to say the least. I could write a novel about all of the things I endured from March of 2009 until October of 2010. Suffice to say, that the more faith I tried to put in to my husband and trying to make our marriage work, the worse the situation became. Eventually, he volunteered for a one year deployment to Afghanistan. Sadly, that year was punctuated by very little communication with any member of his family, our boys included.
When my husband deployed, I realized that whether I liked it or not, life was happening around me, and I didn't want to miss out on it anymore. I decided that I wanted to go back to school and further my education, so I did. I wanted a different vehicle to drive, so I went alone to the dealership, test drove something different, and struck a great deal. I took the boys on road trips to the mountains to pick apples, and to the coast to visit my in-laws. We even traveled at night! Whatever I wanted to do, I did. On my own.
When my husband returned from Afghanistan, he lived at home for almost 2 ½ weeks before he moved out. Forever. It was two days shy of our 10th wedding anniversary.
I didn't cry until after the door shut behind him and I heard the deadbolt click into place. I knew that while I didn't want him to leave, I would be okay as long as I had my children…and my independent nature.
I filed for divorce a little over a month later, and it became final on February 18, 2011. He remarried less than 2 months later.
In the last year and a half, I have dated little. I refuse to change myself or accept less than I deserve in a relationship. I've made new friends and reconnected with old friends; friends I never made time for before my marriage failed. I was accepted into Columbia College's fall 2012 Masters in Organizational Change and Leadership program.
Last year, I entered a blog contest for a local hospital. That was something I would never have envisioned doing during my marriage. After several weeks of waiting, I received word that I had been one of only 10 women selected to be a featured blogger each month.
As a direct result of one of my blog posts, I was given the opportunity to share this story with all of you today. My wish is that it reaches other women who have gone through what I have gone through. I want to show them that there IS life after divorce, that good things CAN come. If I can help even one woman, then my own trials will not have been in vain.
There is a light at the end of the tunnel, just so long as you decide to thrive and not just survive.
Ultimately, that choice must come from within. Seriously consider counseling. It's not just a "Hollywood" thing that you see people do on TV and in the movies. I've had the same counselor since our marital problems started, and I still go about once every eight weeks or so to help me work the "kinks" out.
While my "happily ever after" marital dream has yet to come true, my personal dream of being a writer is slowly coming to fruition. Be careful what you wish for!
Read more of Crissie's writing, along with nine other talented South Carolina women, at Lexington Medical Center's Every Woman Blog.
—————————————————————————————————————————————-
Please share your thoughts or message of support for Crissie by commenting below.
Like to share a story that you think can help others in the Mamapedia Community? Please submit your story today. Easy to follow instructions are just to the right of this column, in a box that says, "Want to be a contributor?" Hope you take us up on the offer.