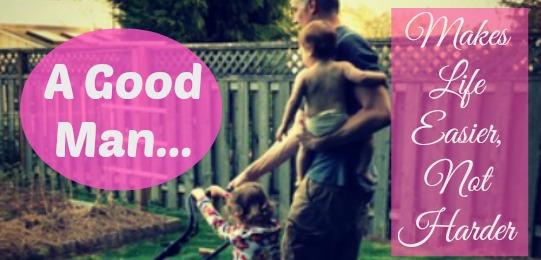 A Good Man Makes Life Easier, Not Harder
Photo by: Carisa Miller
Marrying my husband is the best decision I have ever made and, with a doubt, the best decision I will ever make.
The record will show, I made more than my fair share of awful decisions regarding men.
Back in the day, I had a habit of passing time with jerks and drunks. I chased after bad boys who weren't nice to me, convinced I could make them into what I wanted.
The fact that I was able to finally get it right, is a testament to hard work and sticktoitiveness. (This part isn't so much an homage to my husband as an egotistical rant. Hang tight, they'll be plenty of mushy love in a minute.)
It took a lot of effort to make my way through all the frogs, and get my daddy issues sorted out. I consider it a very near miss that I didn't end up surrendering myself permanently, to one of those guys who cast dark shadows over the light in me.
Instead of settling, I chose many years of desperation and heart-eating loneliness. I trudged through the nastiness of sorting through the my guts. I faced my upbringing, and overcame my self-destructive patterns. It was hell. But I'd backpack through it in saran wrap and a snowsuit, all over again if I had to, in order to be where I am now.
I almost shut my husband down early on in our dating. I was afraid of letting a man be good to me. When my brain tried to jump back on that old broken track and push him away, he snatched my grey matter up in his strong hands and said, "You best knock that off."
It only took the one time. After he brought me back, I knew that being with him would be my life.
The most surprising thing about the right relationship, is how easy it is. I used to think that only a difficult man was worth something. I had it so wrong. Having to constantly fight to make something work, is ridiculous.
When I was no longer spending all my time trying to figure out how to get along in a relationship, I was able to start living my life.
I get to use my energy to generate my own electricity, instead of trying to juice-up someone else's faulty wiring. Because my husband is his own healthy, self-sustaining being, I am free to increase my own brilliance.
He encourages my dreams. In the unbreakable foundation of my husband's love and support, I have rooted myself. Here, there are no are bounds to my potential for growth. (First I'm a lightbulb, now what, a ficus? I'll go ahead and blame love for the metaphor overload.)
The choice to be with my husband isn't only the best choice compared to all the lousy choices in my past, it is the best choice possible of all the possible choices.
He is a nice guy, my husband. Anyone will tell you so. He listens. He is patient. He is generous. He is loving. He is happy.
Bad boys aren't cool, they're rotten. It takes a thousand times the man to be kind, than it does to be an asshole.
Sometimes, I step out of a family scene for a moment to watch my husband, wrestling and laughing with our kids. He teases them and covers them in kisses. His love for them lives right out in the open. He will never let them doubt it.
I stand outside the bedroom door and listen to him teaching our preschooler to read, encouraging her to sound out words with his astounding patience. He makes a game of it. He knows the best way to work with her, because he knows her. He is her friend and her teacher.
Many evenings he walks through the door, beat from his day at the office, and upon finding me worn down from the chaos at home, steps in to take the load off me.
My husband is my partner…in everything.
I once told our four-year-old, how pleased with myself I am for choosing the right daddy for her. Since then, on several out-of-the-blue occasions, she's lit up, reached out to hug me and said, "Thank you for giving me my daddy." Like he is the birthday present she's always wanted.
Not only did I marry the best man for me, I also married the best man for our two daughters.

I think I'm pretty smart. I know I am incredibly lucky. (See? I told you it would get mushy.)
Carisa Miller is a sarcasm wielding, cherub lugging, cheese devouring nut-job. She lives in Portland, Oregon with her astonishingly patient husband, two fireball daughters, and an ill-tempered cat. Her haphazard adventures in baby raising, gardening, crafting, cooking and everything else are strewn across her website, Carisa Miller:Do You Read Me?, and on Twitter, Facebook & Pinterest, where serious undertones and actual information occasionally leak through one-liners and run-on sentences.