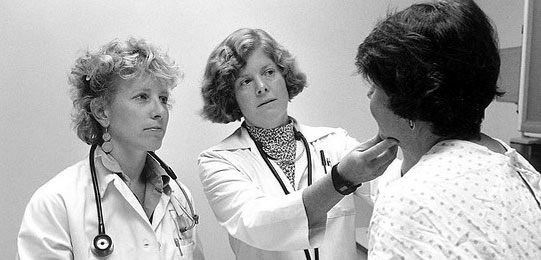 Why Women Deserve a Second for Themselves
Photo by: Seattle Municipal Archives
Do you have a second? Each of us has 86,400 seconds every day, and they tick by us like utility poles on an interstate highway. Especially women are stretched thin for time every day of the week. Whether we have babies on our hips, toddlers at our feet or teenagers in our kitchen, we are constantly in motion to meet the needs of our families and friends.
We may not make our needs a priority until something goes wrong. And when it does, we are there for each other. For me, a hysterectomy sent me searching for support and information from other women – and led me to a whole new mission in life.After I had a hysterectomy in 1998, I had a lot of questions. The operation slowed me down, and I had time to go online and find other women who were going through the same thing. Information about our new bodies was scarce – what hormones did we need? What was normal after surgery – and what wasn't? And what's happening to my sex life, and what can I do about it?
For the last 12 years, I've helped women connect with and support each other before and after their hysterectomies. But last year I wanted to do more.
I created a campaign called Give Me a Second to encourage women to get second opinions before any major surgery, especially hysterectomy. Our objectives are simple: increase the number of women who explore all options before deciding on a surgical procedure. Because when it comes to removing a bodily organ – or multiple organs in the case of a hysterectomy and oopherectomy – there are many decisions to be made.
The inspiration behind Give Me a Second came from thousands of women who share their experiences at HysterSisters.com – a woman who felt rushed into surgery before she could explore other options or process what was happening. If her surgery hit any snags or complications during recovery, regret and anger can sink in.
"I feel disloyal talking to another doctor," one woman confided. Or this theme: "I don't want to hurt my doctor's feelings."
I'm a patient support advocate and so I must speak up. I feel duty bound to encourage women to get another opinion when their doctor suggests a hysterectomy. And I believe that this message is also important for other major medical decisions. We must encourage women to build partnerships with their physicians, and the best way to do this is to ask questions. Here are two simple ones to keep on hand and start a conversation with your doctor.
1. Is a non-surgical alternative treatment available?
2. Am I a candidate for a less invasive surgical technique?
We know there is a demand for support and information about hysterectomy, because it is the second most common surgery in the United States for women between ages 18 and 65 (the first? C-section delivery). But there are other conditions that warrant a second opinion, too.
In interviews with CNN, Newsweek and Consumer Reports, some of the country's leading doctors recommend that women always pursue a second opinion – or even a third – in the following situations.
1. You have been diagnosed with cancer, especially breast or gynecological cancer.
The severity of the condition merits a second opinion from specialists. Because detection of pre-cancerous conditions for breast cancer is on the rise, treatments vary from conservative to aggressive.
2. You have an unresolved heart condition or have been told to have a heart bypass procedure.
Because signs of heart attack and cardiac disease present differently in women than men, women experiencing symptoms such as shortness of breath or a rapid heartbeat should always consult a second doctor. According to doctors at Beth Israel Medical Center in New York, you always need a second opinion for heart bypass because of the risk of death, stroke and severe infection.
3. You have been diagnosed with a brain tumor.
Whether benign or cancerous, a brain tumor diagnosis requires careful evaluation by more than one doctor. Best Doctors, a company that specializes in medical review and second opinions, told CNN that in some cases, inflammatory disease may be misdiagnosed as a tumor. While misdiagnoses are relatively rare, the seriousness of the condition warrants a second opinion.
Three other conditions that are common among women also warrant a second opinion because of possibility of misdiagnosis or because new advances in treatment are available.
1. Autoimmune disease such as lupus or rheumatoid arthritis.
2. Irritable bowel syndrome, which may be misdiagnosed for celiac disease, a gluten allergy.
3. Varicose veins, which have surgical options but also effective, non-surgical options such as exercise, the use of stockings, injections and laser treatments.
We've been taught well – to sit up straight, to pay close attention, to be good, to say "please" and "thank you." "Give Me a Second" encourages persistence. We need to be fully engaged when making our health care decisions. And in the doctor's office, we can be polite – and still ask the right questions for our own benefit.
Sources:
Newsweek
CNN
Consumer Reports