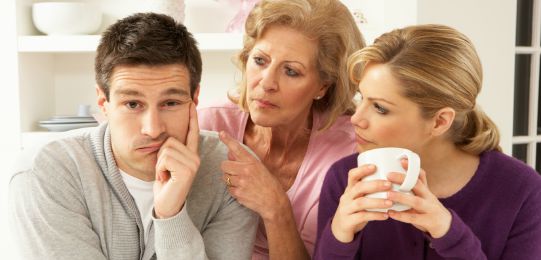 To The Woman Who Will Steal My Son...
Photo by: iStock
Dear future daughters-in-law,
Right now, I am the proud mother of two young boys: handsome, strong, intelligent, and doting sons. From the moment they took their first hesitant breaths in this world my boys have been my life. They are the reasons I get up in the morning. Literally.
I cannot fathom looking at their fully-grown, stubbly, masculine faces without seeing the noses I wiped, the tears I dried, the boo-boos I kissed and the diapers I changed every day. I will always see the little boy who cried when I dropped him off for his first day of preschool or the child who once clung to my leg for an entire week: everywhere I went, he followed, attached to me as if by magic.
In my mind, my boys will always be the innocent creatures I brought painfully – and with copious amount of fluids – into this world and whose lives and happiness I have protected with my own body and soul for the majority of my life. They are more a part of my identity than I am. They need me, therefore I am.
Then one day, almost overnight, something will change. They will stop coming home so I will do their laundry, and yet when I see them their clothes will be neither stained nor wrinkled.
Are they buying new clothes every week?
They'll no longer call me to ask my opinion on every decision in their lives from which curtains match their sofa to whether they should quit their job and form a garage band.
Did they land a record deal?
Then one of them will show up for a family dinner with a new "friend". It won't be the first time he brings a girl home to meet me, but this time will be different. Instead of presenting you to me for my approval, my son will stand beside you protectively as if guarding you from my unspoken judgment. He'll sit with his arm wrapped possessively around you, whispering private jokes in your ear in a way that is both familiar from my youth and terrifyingly new.
You'll come into our lives overnight, as all new friends do, and suddenly I'll see evidence of you everywhere. I'll see you in the clothes my son is wearing. I tried for years to convince him to forgo the ratty old t-shirts for a nice button-down shirt. I called them trash, he called them vintage, then you'll wrinkle your nose at them one day and they'll be gone. With one twitch of your mouth or furrowing of your brow you will accomplish what I couldn't in twenty years.
Are you some kind of witch?
I will be a stranger in my son's house. I'll feel a sudden sense of loss, and I have no one to blame but you and your ridiculously overpriced coffee maker.
I'm not asking for your sympathy. I'm simply trying to explain why I will insist on rearranging your kitchen and conveniently forgetting which kitchen gadgets are dishwasher safe and which are not. It's not that I'm becoming old and senile – though that will come in its own time – I want to leave my mark on this strange life my son is leading without me, even if that mark is one of destruction and confusion.
For every kiss, every secret, and every home-cooked meal that you have usurped I will want to hide your mugs and break your wine glasses.
How do I know all this? I too stole away a mother's son and suffered the slings and arrows of her outrageous misanthropy. I've lain awake nights in cold sweats, anticipating the arrival of my mother-in-law and her twitchy cleaning-fingers, prying questions, and surprise visits while still in my underwear.
When we meet our soul mates, the ones with whom we choose to spend the rest of our lives, we often say we are "meant to be together". Romantic, right?
Unfortunately, that means my mother-in-law gave birth to her son for me, and I gave birth to mine for you: so you could find your love, get married and have children of your own who are ultimately meant for someone else. Sure, my son will always love me, but his heart and loyalty will belong to you.
That is as it should be… but I don't have to like it.
So as you go out into the world and inevitably cross paths with my son, fall in love and get married, remember I was once the heroine in my own romantic fairy tale.
I wasn't always the unromantic mother-in-law stocking your fridge with low fat foods to help you "watch your girlish figure" or sending your husband childhood photos of him with the girl next door who I secretly wanted him to marry. I wasn't always the woman who insists on showing up on your doorstep at 5:00am every year on your husband's birthday to whisk him away for breakfast regardless of your plans.
Of course, I am all those things, and someday you probably will be too. Try not to let my boundless interfering and meddling get you down.
Your house will never be clean enough to impress me because I don't want it to be.
Your cooking will never be healthy enough, filling enough, or organic enough, just as mine was never good enough for my mother-in-law.
You will never win my approval, because I've fixed the game.
The best you can hope for is a complicated understanding that for the time being, we are sharing the love of our lives… and women never like to share.
Someday, you will realize that my son isn't the one-and-only true love of your life. You will discover that this honor is reserved for the children you will one day hold at the moment of their birth: the boys you will create for the next generation of romantic dreamers. Suddenly, you will understand why mothers-in-law everywhere refuse to let go of their sons.
When you do, I'll be waiting. Perhaps we can torment your daughter-in-law together, because the only thing worse than the woman who steals your baby is the b*tch who steals your grandson.
Mary Widdicks is a 32-year-old mom to two boys and a brand new baby girl. She started Outmanned so she'd have a place to escape the testosterone and share her hilarious life with the rest of the world. Mary's writing has been featured on other great parenting sites such as Mamalode, In the Powder Room, Pregnant Chicken, Scary Mommy, and BLUNTmoms. She has been honored as a Voice of the Year by BlogHer in 2014 and 2015, and 2014 Badass Blogger of the Year by The Indie Chicks. Follow Mary on: Blog, Facebook, Twitter, and Pinterest.