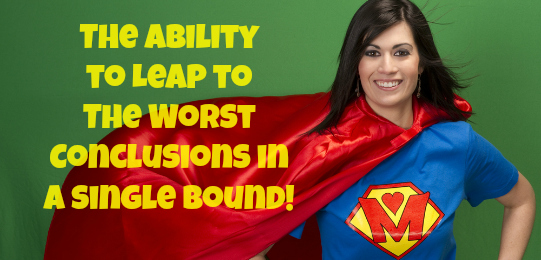 The 10 Mom Super Powers
Photo by: Shutterstock
I had no idea that when I became a mom that I would automatically become a super hero. But now that I am a mom, I feel kinda ripped off. I mean, I didn't even get to pick my super powers, and while some of them are kinda awesome, some of them really suck. And now I'm stuck with them.
1. The power to make food with your body. I mean this is slightly crazy, right? But I guess if I would have been able to choose this power I would have probably decided to make something like salted caramel chocolates instead of weird, slightly sweet milk (you know you've tried it too.)
2. The power to simply vanish when behind a closed door or shower curtain. I know that I must cease to exist because of the frantic nature of my children's voices if either of these things happen.
3. The power to instantly know if your child will fit into a certain outfit by just looking at it. This is a pretty lame super power, I know, but I can tell if something is a slightly large 4T or a wide 9 month old outfit and where exactly it will bulge or gap on each of my children.
4. The power to know if your child has to go to the bathroom with their most subtle leg movement. I can only do this with my own children, but I am like their own personal pee-predictor ninja.
5. The power to know if your kid is really hurt or just slightly injured by listening to their cry. This power took me awhile to really hone. At first the cries all sounded the same and, again, this power is only specific to my own kids. There is an "Ouch, I stubbed my toe!" cry and then there is the "Holy shit, I really injured myself!" cry and then there is the all-too-scary thump and silent open-mouthed cry where you would contemplate going to the ER if you could just get them to breathe out.
6. The power to hear silence and instantly feel afraid. This sounds like a strange power, I know. In my previous life I was surrounded by silence and it was normal and nice. Now, if my children are awake and the noise stops, my subconscious automatically kicks out some stress-filled cortisol before my conscious brain even realizes that there has been a silent moment. It's really quite amazing. And very helpful because the children are for sure poking the dog in the butt or making sharpie tattoos on their faces.
7. The power to smell if it is your child that has crapped in their pants. Enough said.
8. The power to know if your child is lying to you. I'm not really sure if this is a power, though, or if my kid is just a terrible liar. And knowing this, I probably didn't get away with as much as I thought I did when I was a kid.
9. The power to express myself clearly with facial movements. This one especially comes in handy when on the phone. The "You're cute, now go wrestle your sister so I can chat" face. The "I'll help you in a minute" face. The "I'm warning you…" face. And the all too important, "One more word about it and I will sell all of your toys on ebay" face.
10. The power to find the beauty in the most horrific drawing on the planet. It's Mother's Day, and your precious little one has brought home a drawing for you. Of you. The lopsided eyes and blood red slash of a mouth threatens to give you nightmares, but the love shining in those big browns looking up at you makes it the most beautiful thing you have ever seen.
What super powers were you given when you became a mom?

Joelle Wisler is a writer, mom and occasional physical therapist. She lives in the mountains in Colorado and likes to run the crazy trails behind her house but is terrified of getting eaten by a mountain lion. This year she co-produced Boulder's Listen To Your Mother show and she blogs about motherhood at 8500 feet at joellewisler.com. You can like her on Facebook, and follow her on Instagram.