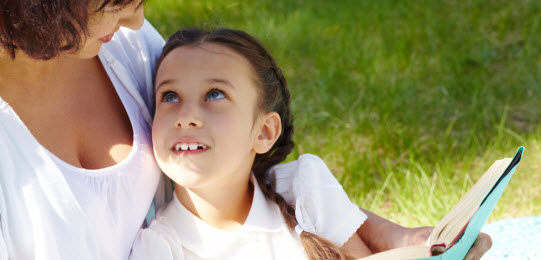 Talking to Your Kids About Tough Topics
Photo by: Shutterstock
The tenth anniversary of 9/11 offers many of us an unexpected opportunity to tackle new topics with our children. Odds are, each of us have been faced with answering questions about violence and war, varying belief systems, and possibly even questions about death. Maybe we even had to describe the various reactions of people throughout the world, as people process and express hard-hitting news differently.

There was without a doubt a lot of ground to cover and many of us could have used a helpful resource that offered a shield for our children from what they don't need to know, but allows them to be informed about what they should know. Compounding the difficulty and weight of these situations is that you don't want to ignore your child's inquiries because, as any parent knows, that information and influencers are everywhere – at home and in the classroom especially.

So the question remains: How do you talk to your child about tough topics? If you are like me, you want to tell them what is happening, why, and what we can learn from historic events so they can become involved, compassionate, and engaged individuals within the world around them. Treading lightly, but also hitting home the most important, factual elements of any event is a difficult balance to find.
With almost any headline or news story, the below list offers a great guideline to use when you want to relay news to your child at home or within the classroom:
1) Do provide the facts in a simple comparative and contrasting format for children to understand. For example, "President Obama is the leader of our Nation. Osama bin Laden was the leader of an organization, but this organization was responsible for a lot of violence."
2) Do provide a different perspective of how people live and offer an opportunity for discussion about how that makes your child feel.
3) Do provide context about where the events occurred but be careful not to infuse fear or judgment into those details. For example, this is a great opportunity to show your child a map of the world and point to the various countries involved in the news.
My daughters invoked a passion in me to create an outlet that delivers news to children that matters. When they asked me questions about the earthquake in Pakistan a few years ago, I wanted to be able to tell them exactly what they needed to know, without the influences, judgments, and often times harsh images the mainstream media exposes to our children. Using the above steps, and child-friendly news outlets, you can rest assured that your children are learning age-appropriate facts with relevant context in order to help them aspire to be compassionate and caring individuals.
A mother of two and president of a music publishing company, Golnar created the GoGoNews newspaper in 2006, which she wrote daily and shared with her twin daughters. As the children grew, so too did GoGoNews, adding more sophisticated content, building a web presence, and distributing the paper to like-minded friends and family. She lives in Toronto, Canada with her husband and their children.