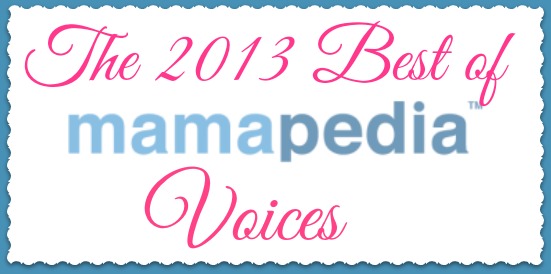 The Best of Mamapedia Voices: 2013 Edition
Photo by: Mamapedia
The results are in… Of all 365 posts from 2013, here are the best Mamapedia Voices blog posts.
Based on the most views, comments and social media sharing, we have compiled the top blog posts from 2013. Mamapedia wants to thank you for being such loyal, avid and responsive readers of our daily blog, and we also want to thank all the talented writers who allow us to share their words.
Without further adieu:
1. Dear Daughter, Let Miley Cyrus Be a Lesson to You by Kim of 'Roadkill Goldfish'.
2. What Little Girls Wish Daddies Knew by Tara Hedman.
3. 10 Ways You Know You've Been Married for More Than 10 Years by Anna of 'My Life and Kids'.
4. The True Story of a Seven Year Marriage by Leah Harrod Rupp of 'Fly Sofly My Love'
5. Lice is a Four Letter Word by Bitchin Sisters.
6. To the Fat Shaming Mom at the Soccer Field by Colleen of 'The Family Pants'.
7. 10 Things I've Learned From 10 Years of Marriage by Amy of 'Funny is Family'.
8. Food Stamps Debate by Mary of 'Everyday Baby Steps'
9. When Depression Comes in Disguise by Beth Woolsey of 'Five Kids is A Lot of Kids'.
10. 10 Ways to Be a Happier Parent by Shannon Lell.
What do you think? Which post did you just love? Is there a particularly memorable post that didn't make the list? We love to hear YOUR voice.
Thank you for reading. Happy New Year.
Love,
Mamapedia