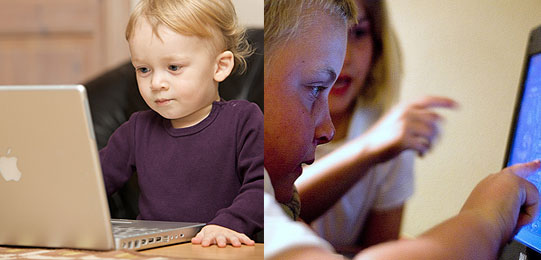 Your Kids and Facebook, MySpace and Twitter: What's Responsible Online Behavior?
Photo by: Ernst Vikne/Jim Sneddon
Today, moms are faced with a new realm of parenting challenges that moms twenty – or even ten – years ago didn't have to deal with. In addition to age-old responsibilities like teaching your children manners, monitoring their behavior, and encouraging them to pursue their dreams, there's a recently added chapter to the unwritten parenting "guide," and it's called, "Raising Responsible Kids Online."
It can be incredibly difficult to distinguish a clear line between what's responsible and what's irresponsible when it comes to your child and their online behavior, particularly with social media sites like Facebook, MySpace and Twitter.
Is it responsible for a child to use Facebook? Until what age should parents monitor their child's social media profile? Is it okay to post pictures of your child online?
Liberty Mutual recently surveyed American social media users, including moms, to find the answers to these questions and help spark a conversation about this very popular – and sometimes controversial – topic.
The Social Media and Personal Responsibility Survey was conducted as part of Liberty Mutual's Responsibility Project, an online community that poses the question of what it means to "do the right thing" in everyday situations, and in this case, online.
The survey revealed that the vast majority (73 percent) of parents believe it's acceptable for their child to have a Facebook or MySpace account. However, those same parents claim they will monitor their child's social media profile until they are 18 years-old. Which essentially means, parents can add, "check daughter's Facebook profile" to their ongoing list of to-do's.
Interestingly enough, according to the survey, most parents have their own personal profile on these sites. Not only are parents monitoring their kids' online behavior, they are using social media as a way to "connect" with their kids. A stunning 69 percent of parents said they are currently "friends" with their children on a social media site – likely as a way to interact with and/or monitor their children.
Additionally, Facebook is crammed with pictures of children of all ages, most of which were likely posted by parents. So, it may come as a shock that 42 percent of social media users believe it's irresponsible to post pictures of children online.
Even more surprisingly – despite the large number of these currently floating around the internet, a shocking nine out of 10 parents said they have NEVER used social media on behalf of their child; this includes creating a baby profile page or "Tweeting" on behalf of a child. This discrepancy raises the question – are parents embarrassed to admit they've done this? Share your opinion here.
If your children are older and perhaps even entering the job market post-college, it may be helpful for them to know that more than half (52%) of the survey respondents found it completely acceptable to check a job candidate's social media profile before hiring them.
Social Media in the Classroom and Teachers on Facebook
As the great Bob Dylan once sang, "The times they are a changing." Actually, they've already changed. Children are completing curriculum on computers, learning how to research using Google and becoming best friends with kids they've only met virtually. That said, it's not surprising that social media has permeated the American classroom.
The verdict is still out, however, on whether or not social media should permeate the American classroom, at least as it relates to teachers. Almost half (46 percent) of survey respondents said it's irresponsible for a teacher to have a social media profile, while 43 percent claimed it's completely acceptable.
How would you feel if your child came home and told you that their teacher "friended" them on Facebook? If your response is negative, you aren't alone. The majority of respondents (81 percent) stated they believe it's irresponsible for teachers to "friend" current students (ages 5-18) on Facebook.
Men vs. Women
In addition to questions about parenting and education, Liberty Mutual polled social media users' opinions on relationships. The classic debate of "men vs. women" quickly became a theme stitched throughout the survey results.
Come to find out, men are not only more accepting of social media but they also use it more often than women. It appears that men find things like "friending" a boss or co-worker on Facebook more responsible than women (40 percent vs. 29 percent). Similarly, men (57 percent) are more likely than women (50 percent) to have more than one social media profile and use the accounts at least a few times a week. The only social media site that women seem to use more often than men is Facebook and even that is a close one (83 percent vs. 80 percent). Food for thought: Why is it that men turn to social media (more than women) for social interaction?
Your Part
As a woman, a mom, a co-worker, a wife – we want to hear your opinion. To join the conversation and find more survey results, please visit www.ResponsibilityProject.com, follow us on Twitter or visit our Facebook page.
Editor's note This post was sponsored by Liberty Mutual's Responsibility Project®.