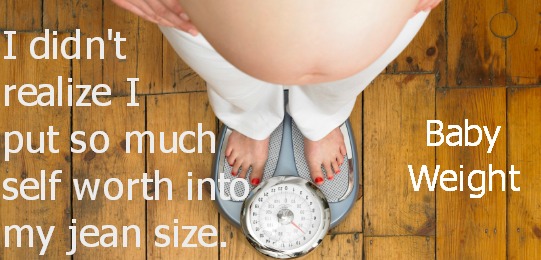 My Personal Struggle with Baby Weight
Photo by: iStock
I remove my boots, step on the scale, and stare at the result as the nurse records it on her clipboard. "The doctor will see you in room three," she pronounces, thereby signaling the end of the weigh-in portion of my six-week postpartum check-up.
But I am not finished. I want a do-over. There has to be some mistake. The scale had to be wrong.
I was already back to my pre-pregnancy weight by this point after my first pregnancy. I am supposed to be thin again. I am supposed to be of the ilk who wears their skinny jeans after delivery, not – gasp! – their "baby blues" (read: stretchy maternity jeans).
Admittedly, I knew I had gained more during this pregnancy than I did with my first. There was no sugar-coating it (pun intended): The serial visits to the freezer for moose tracks ice cream, the countless trips to the drive-thru for French fries, the submarine sandwiches that I – and I'm not exaggerating, here – ate exclusively for an entire trimester. Yes, I caved to the cravings.
But my last hoorah was six weeks ago. I have since been power-walking the neighborhood like a maniac, and I now eat one slice of pizza on Friday night instead of my usual three. Clearly, I am still shell-shocked by the realization that the majority of the weight I had gained during the past nine months is still on my buttocks and thighs – not asleep in the baby carrier at my feet.
"Are you okay?" the nurse inquires.
"Yeah, I'm fine," I say and quickly turn my gaze downward. I am embarrassed that my eyes are welling up with tears. "This is so odd. This morning I was able to fit into pants that I wasn't able to three weeks ago. I can't believe…" I sniffle involuntarily, pull on my boots, pick up the baby carrier and smile through pursed lips.
Some background on my preoccupation with weight, or lack thereof: All my life I've had the metabolism of a Hummingbird, worn a size two without really trying, and never knew what it was like to count calories. (I know, I know: Waa, waa, Courtney.) I have never feared the scale, but I grew up in a family with women who did. And before I was really old enough to understand why, I had received the memo that my thinness was perhaps my most coveted genetic trait. I never thought of myself as better because I was thin, but I did consider myself thankful that I wasn't overweight.
Frankly, I was unaware that this realm of thinking had followed me into adulthood. Until now.
I get in the car and begin my twenty-minute drive home with what I can only call excruciating self-punishment. I feel sad for being petty, guilty for caring so much about something as trivial as a number on a scale, and, lastly, angry at myself because I know better. My worth as a mother – as a woman – is in no way be measured in pounds, inches, or dress size. I know this. Don't I?
I allow myself a good cry, to wallow in self-pity for a few minutes until a voice inside my head kicks in and interrupts my twisted reverie. She tells me, quite simply, to get over myself. She reminds me that the body I am cursing is the same body that delivered two babies with relative ease, the same body that produces such a surplus of breast milk that I am able to feed my child and donate to a local milk bank. She reminds me that there are women who would swap a trunk full of size two yoga pants to be in my shoes, so I need to quit my belly-aching.
She reminds me that the bottom line is this: It is a new day. My body has changed. I may be more comfortable in my maternity pants for a while, and I may have to go up a pant size from now on, but I'll live. The world will not come crashing down on its ear if I am not a size two.
Then the voice poses a pivotal question: Weren't you on cloud nine a few hours ago because your daughter laughed at your funny face for the first time? Yes, your daughter… you do remember her, right? She is one of the reasons you are lucky enough to bear the badge of Mom. Your son is the other reason. And guess what? They could give a hoot about the number on your jean's tag.
And in that instant, as I pull into the garage, I stop caring, too. The voice's parting words are as follows: Stop this. Just, stop. There will be no more of this nonsense. Continue to exercise when you can – when you're not already busy caring for two kids under three – eat well as you have been, and for goodness sake, a cookie or two won't sabotage your efforts. Oh, and get out of the car. Now. Your blessing is crying in the back seat because she needs to be changed.
Courtney Conover is the wife of an ex-NFL player, stay-at-home mother of two under three, a certified yoga instructor, and a contributing writer to the Chicken Soup for the Soul book series. When she's not cleaning up cold macaroni and cheese off the floor or tripping over Fisher-Price Little People, she writes about motherhood – and everything else – on her lifestyle blog, The Brown Girl with Long Hair.