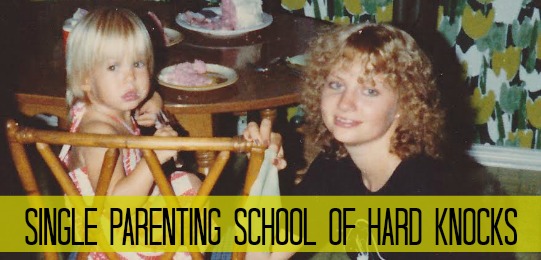 13 Lessons Learned in the Single Parent School of Hard Knocks
Photo by: Deb Malarek
I was young, dumb and in love when I got married at 17 – a week and a half after I graduated from high school. Two years later, I had a daughter. After the divorce (you saw that coming, right?), I was a 20-something with no car, no money, no work experience other than waitressing and a daughter who needed stuff.
Somehow she and I survived and she grew up into a decent human being I can be proud of. That first year or so sucked (read: I sucked), but here are a few things I learned in the Single Mom School of Hard Knocks that might be of benefit to you.
1. The check is not in the mail. Don't budget for it. If one comes, woohoo – take your kid to Dick's or buy them some new jeans. Maybe it's easier to get court-ordered child support now, but back then my Ex lived in Arizona, which the welfare folks told me is the Black Hole of Child Support. I never saw a check.
2. Work the system. Don't even think for a second it's not the right thing to do. Welfare and food stamps and food banks and financial aid to help get you through school are there for a reason. If you're not sure what that is, re-read lesson #1.
3. Working the system is a bitch. They will ask you questions that make you feel worse about your situation. Why can't your parents give you money? They judge. They are not human. By the time you finally, hopefully, get something out of them, you will have earned it.
4. This too shall pass. My mom said this to me a lot. She probably said it to me when I decided to get married at 17, but I'm pretty sure I wasn't listening at that point. Truth is, your darkest days won't last forever, even though it feels like forever while they're happening.
5. If all else fails, ramen. I had some creative ways to make ramen if I had a little extra dough for additives, but nothing will fill you both up for 50 cents better on the day before the next batch of food stamps shows up. My daughter won't eat ramen now, but I still find comfort in it somehow.
6. Earned Income Tax Credit. This annual dump into my checking account from the

IRS

made it so we didn't have to live without a vacuum cleaner. Or brakes. Not to mention unexpected medical bills. It's always something, but this helps.
7. Silliness makes everyone feel better. You're the bad cop in all situations now, and that's tough. You have to balance that out with being a goof sometimes – and it'll take the stress out of parenthood for a while. Blow bubbles. Go find a swing set. Put the underwear on your head while folding laundry. Pretend the produce at the grocery store is alive. Make calzones together. Okay, that last one was a disaster, but oh, how we laughed.
8. Dating is overrated. Inviting a date over after your kid's gone to bed is fine if you're just going to watch a movie, but if you start drinking and he ends up spending the night, then wanders to the bathroom naked in the middle of the night, you're going to have some explaining to do. That's obviously a cliché, because I've seen it in multiple TV shows lately. Being a cliché is embarrassing.
9. Don't let them see you sweat. Your kid, that is. Your kid needs support from both parents, and proving you can take care of them without tears or spewing hatred about your former significant other is the best way. You can drink some cheap wine and cry after they go to bed.
10. Cheap wine. 'Nuff said.
11. Everyone loves a weekend at the grandparents' house. Or the cousin's. Or your ex's. You need some me time for a good book. Or dirty movies. Or your besties. Or lesson #10.
12. Quit trying to catch up on sleep. You're going to be exhausted until they grow up and move away. Learning to live with it will be easier than trying to fight it. My daughter has a kid now, and she tells me she's tired. And I say, "Hahahahahahahah! Yeah, I know".
13. Spiders are more scared of you than you are of them. Nah, just kidding – I still haven't really learned that one.
This was orginally published in STACKEDD Magazine.
Deb Malarek is a regular contributor to STACKEDD Magazine. Her infinite infatuation with finding her next favorite band led to a record collection that won't fit in an apartment, and a tendency to show up at her day job on four hours sleep. A former daily newspaper reporter, her music writings have been published in various daily newspapers who no longer believe art is a thing, along with The Rocket and No Depression magazine. She can still be found at the promising weeknight show, proving that being a grandma is way less exhausting than being a mom.