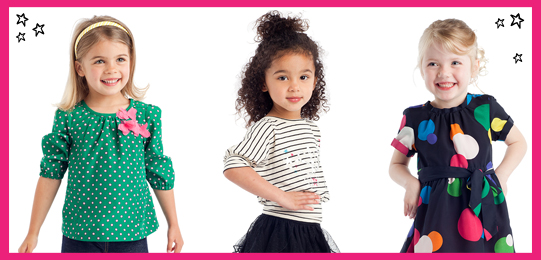 Introducing FabKids: A Conversation with Designer Denise Kalinowski
Photo by: FabKids
Every now and then, a new online company comes along with a really clever idea. That's why we were so excited to discover FabKids, a new way to shop for kids clothes.
Started by a team of parents, including mom and actress Christina Applegate and childrenswear designer Denise Kalinowski, FabKids provides monthly ready-to-play outfits, personalized just for your girl, no matter her style.
Denise Kalinowski, FabKids Head Designer, was kind enough to take a few minutes out of her crazy, busy schedule to answer a few questions about the company, and the hottest fashion trends this fall.
Denise, before we begin, can you tell us a bit about your fashion background?
Fashion is something that I have always been passionate about. Even as a kid, I was very interested in what I wore, and admired other people's style. I've always loved that fashion is a way to express your individuality.

I went to the Fashion Institute of Design and Merchandising (FIDM) in Los Angeles and have since spent my career in the baby/kids apparel market, working for companies including BabyStyle, Old Navy Kids, and Lands' End Kids.
Last October, I got a call from Andy Moss (FabKids Founder & CEO) to help brainstorm ideas for what ended up being the seed for FabKids. After several more brainstorm sessions, I knew I had to be a part of this exciting new fashion site for kids!
Does a child's 'fashion sense' develop early on?
It really depends on the child. I know some toddlers who by age two, have very strong opinions on what they want to wear. I think that is awesome because it's their way of saying, 'I have a voice, and I want to show the world!'
Each girl is unique in how she wants to express herself. For example, you have the pink-tutu-with-everything kind of girl, the I-just-want-to-wear-my-leggings-and-favorite-t-shirt kind of girl, and 'dresses only, please!' to name but a few.
I like to design with all of these girls in mind. It's a great feeling to know that through our clothes, we are encouraging girls to celebrate their individuality.

What makes FabKids unique in the market?
FabKids is unique because it is a subscription-based, retail site that offers great kids fashion in styled outfits matched to each girl's personal style. Our clothes are easy to mix-and-match with each other, or existing wardrobe pieces.
Additionally, our style profile questionnaire is a fun, interactive way for us to know more about the girl you are shopping for, so we can then recommend the best outfits for her style, personality, and lifestyle.

Describe FabKids' slogan, 'Ready-to-play?'
Ready-to-play is our way of saying everything you get from us is easy to throw on, super comfortable, playground ready, and machine washable…while looking fab, of course!

What do you think are the top three reasons moms will fall in love with FabKids?
Convenience – We know moms are busy, so we make the entire FabKids shopping experience super convenient and easy- easy to shop, put together, and mix and match.
Quality – We know these garments need to stand the test of jumping, skipping, dancing, falling; all the fun things your girl will do in our clothes. That is why our garments are made with quality top of mind.
Value – To get a complete, personalized, styled, great quality outfit for $39.95…that's hard to beat!
Every season has a style trend. What are the hottest trends for Fall 2012? Winter 2013?
My top three trends for Fall13 that translate well to girls are:
1. Polka dots. I love Marc Jacobs' collaboration with artist Yayoi Kusama for his Fall13 collection. The play on dot scale and bold color is so fun!
2. Colored Denim. This started to get big in spring with all of the pastels. In fall, the trend continues to grow with the colors becoming jewel-toned or dusty and earthy.
3. 60's Mod: Dropped waists, peter pan collars, color blocking-all very big down the Fall13 runways.
For Holiday, I'll give you a hint: we are very inspired by the excitement and wonder of the circus.

I see that actress Christina Applegate is one of your team members. Can you describe her role in the company?
In her role as 'Mom & Creative Partner,' Christina brings her eye for wearable, stylish ease to FabKids' collection of ready-to-play outfits. She is a tremendous partner.
Buy your first complete FabKids outfit for just $25, using code FIRST25. Every outfit is designed for the playground, and best of all, there's free shipping on all outfits! Don't forget to share this amazing introductory offer with friends.
Cathy Kobre lives in Carmel, California with her twin daughters, and Japanese Chin, Penny.