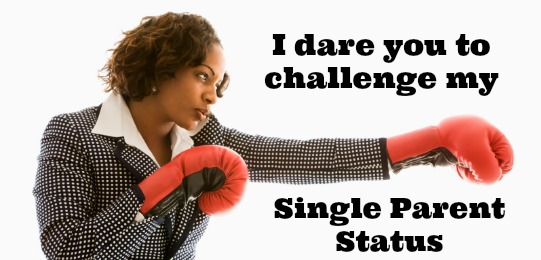 How DARE You Call Yourself a Single Parent!?!
Photo by: iStock
Are you a single parent?
Careful how you answer. Some people are very protective of the term "single parent" and take great offense to those who throw that particular parenting label around all willy nilly.
A few weeks ago I was perusing the comment section on a post that appeared on one of my favorite websites, Scary Mommy. Her site draws some of the most fabulously opinionated people right outta the woodwork. Comment sections are funny. I loathe reading them on pieces I've written, but love them otherwise. Depending on my mood and where I'm at in my cycle, they elicit either giggles or wrath. Sometimes both.
The post in question was a lovely piece written by a woman who shares 50/50 custody of her kids with her ex. It was a well-written essay, straightforward and blissfully to-the-point. The comment section on this one was pretty even-keeled, almost completely full of support and empathy. Lots of camaraderie from women who are in this same custody situation, others who are about to be, and some from people who grew up as 50/50 kids.
And then, there was this one:
Now, I get this person's point…to a point. If there were such a thing as a Parent Label Police, they might get twitchy if someone who shares custody of their angels calls what they're doing "single parenting". But can you still call yourself a single parent? You're single, right? And you're a parent, correct? Then it seems to be perfectly legit to call yourself a Single Parent.
Not so fast, people. Not just any average Joe or Jody gets to call themselves a Single Parent. Just ask this person:
Ahhh. Okay. So those who have 100% custody are the only ones allowed to call themselves Single Parents. Got it. (at this point I removed the tiny silver hoops from my ears, handed them to my dog and said, 'Shit is about to get real, Walter. Hold these.')
Only, no.
Nope. I don't agree. And I had some company in the NOPE DON'T AGREE camp:
I might have been PMSing. And I might also love a good Sixteen Candles reference.
So, Jamie and I both felt the same way, along with a couple others. And then, this:
This is where I had to leave the conversation. Not only because she'd already used two of my least favorite interweb phrases, "just sayin" and "sorry not sorry," and I was concerned that her next move would be telling someone they'd "won the internet." Because I wanted to reply to Alison, and really lay it out there for her. I knew my reply would be defensive and bitchy, and I'd already used up my one Long Duck Dong quote.
I wanted to let Alison, and anyone else who gets possessive and pissy about what someone else chooses to call themselves know, that I wasn't about to suck anything up. Sorry not sorry? Please.
I understand where people who think like this are coming from. They are most likely calling in from Planet Literal and think that if it looks like a duck, walks like a duck and sounds like a duck, it's most likely a duck. They believe that unless you are really, truly a SINGLE parent, meaning that your child has no other parent who exists on the earth, you cannot claim that title. My friends Rachael and Nancy, both widows? Yes. They are single parents.
But guess what? So am I. And I will continue to call myself a single parent until the day comes when I'm no longer single (please, nobody hold your breath). Why? You know I'm going to tell you why, right?
I'm a single parent because when I am actively participating in this thing called Parenting, I do it alone. Oh, I have a village, no doubt. There are friends and teachers and bosses and extended family involved from time to time. But the nitty gritty of it? The sometimes mind-numbing, emotionally taxing, daily-grind things? I do those all by myself. And have done so, all by myself, since the father of my children went out for coffee and signed a lease on an apartment ten years ago.
Even back in the good ol' days when the kids were with their father during his allotted parenting time (every other weekend and two dinners per week…per his request, so haters zip it) , I was a single parent. Yes, he was somewhat active and involved, but I WAS A SINGLE PARENT. When his interest in parenting our kids began to wane, and their visits with him dwindled down to what they are now (six hours on Christmas, with a few random outings here and there throughout the year), there was no question about it. I was a single parent.
My situation is different from some of yours. Some of you don't know where the other parent lives, or even if they are still living. Some of you do the 50/50 split. Some of you see your kids on the weekends. Some of you see them even less than that, for a myriad of reasons. But here's the deal: all of you, whether you're surrounded by kids on the daily or you Skype with them before bedtime a few nights a week… if you're single, and you're a parent, YOU ARE A SINGLE PARENT.
I don't understand why someone would get all territorial and nutty about something as silly as a label, to the extent that they make a public proclamation about who has the rights to it. It's not like the Single Parent Commission is going door to door, checking out the hours you've logged solo parenting and getting verification that the person you procreated with is either dead and buried or off the grid. What's next? The Single Parent Olympics, wherein we all try to prove that we are the singlest parent of all? I can see it now:
And here we have Jenny from the United States. She's been down with the flu for the past three days when BOOM young William announces that his backpack broke and he needs a new one by tomorrow. She's been training her whole life for this moment, folks, and we get to witness her in all of her single parenting glory. There she goes, bathed in fever-sweat and the funk of sickness, stumbling into Dick's Sporting Goods at 8:00 p.m. on a school night. OOOOH did you see that? That indifferent employee sent Jenny and her son to the wrong area of the store to find the elusive drawstring backpack. Folks, we apologize for the salty language you may have heard. This is a live event.
You know why I dragged my sweaty, feverish, aching body into a sporting goods store that night? Because I do this parenting thing on my own. Because my kid's backpack finally broke (we'd made do by tying one broken strap for a while because that's just how we do here) and he needed a new one. Because I couldn't stay wrapped up in my smelly cocoon of blankets, taking shots of Delsym and having weird, acid-trippy dreams. There was no other parent at home to pick up the slack, no husband or partner to pat my moist forehead and coo to me, "You stay here and sleep. I'll take him to the store for a new backpack." (well, actually there was, and it was Mayhem from the Allstate commercials. But that might have been one of those aforementioned trippy dreams.)
I did it because I'm William's mom. I'm his parent. Does he have another parent? Yes, he does. In fact, his other parent lives about 2 miles away. I actually asked William to call this other parent and ask if he'd pick up the slack this time, but William protested and since it was getting late I just did as I have done for all these years…I parented. He took advantage of my fever-fog and managed to wrangle a $30.00 pair of Nike shorts out of the deal too. Young William has learned a thing or two, it appears. I hope they're edible, boy.
I'm going to put a cap on my rant now. I don't care what you call yourself. JazzHands McGee Mom? Perfect. PeterPickledPepper Parent? Yay! Solo parent, co-parent, parallel parent, partnered parent, Netflix parent, yada yada yada. It's not like we're going to have this crap engraved on our tombstones. Feeling threatened and trying to out-single other parents who are in this same boat does nothing for our so-called cause.
No matter what your status as a parent is: whether you're happily married, kinda-happily married, partnered up without the paperwork, or like me, doing it on your own, there is really just one simple objective. To do the best you can. I think that's something we can all agree on, right?
"A parent by any other name would smell as tired." ~William Shakespeare (sort of)
Jennifer Ball writes about divorce and its aftermath, parenting teens and what it's like to have Michelle Duggar hair on her blog, The Happy Hausfrau. When she's not binge-watching t.v. series on Netflix she can be found teaching preschoolers how to build awesome block forts. She lives in Minneapolis with her four fantastic children and Walter, the best dog in the world. Connect with her on Facebook and Twitter!
If you like this, you may also like Nit-Picking and Co-Parenting over at Brain, Child Magazine.