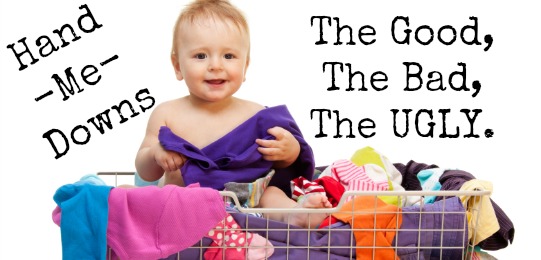 Hand-Me-Downs: The Good, the Bad, the Ugly
Photo by: iStock
Whether or not they like to admit it, most moms have mixed feelings about hand-me-downs.
On the one hand, they save you some cold, hard cash that you can use to go out and buy something your family really needs, like toilet paper or the Lord of the Rings trilogy.
On the other hand, hand-me-downs kind of, well, stink.
A "well-meaning" fellow mom kindly asks if you need anything; next thing you know, you're sifting through a five-foot garbage bag bursting at the seams with stained t-shirts and onesies proudly proclaiming "My First Cousin Twice Removed Rocks." And I use "well-meaning" loosely; these moms have been waiting YEARS to find some sucker on whom to unload their child's worn-out sweaters and Sweet Valley High collection. You're just the mark they've been waiting for.
Indeed, resistance is futile. Pointing out that your children are the exact same size will only make you sound ungrateful. And don't even bother protesting that you can't fit an inflatable bounce-house in your one-bedroom apartment. These are women on the verge of finally scoring closet space, and they will employ any tactic to make it happen. This includes indignation "Well, my little Bobby really liked the make-your-own-machete set. I guess your child is too refined…", salesmanship "Yes, the dress is two sizes too small, but won't your daughter look creative if she wears it as a hat?", and guilt "It must be nice to be able to afford new clothes . . . my kids have been wearing taped-together pages of Entertainment Weekly since their father was laid off." Unfortunately, no matter how determined you are to control the flow of stuff into your home, the truth is you don't stand a chance.
Of course, that's not to say that all hand-me-downs are unwanted. On the contrary! Many used clothes and playthings are in great shape and can really help to fill out your child's wardrobe or toy collection. As such, it's important to be able to separate the truly useful from the truly awful. Here is a brief primer of when to embrace—and when to run from—the hand-me-down:
These are things that you actually need, and that suit your style and available space. Appropriately sized pants, sneakers, or jackets are always a score. And big-ticket items like train sets or riding toys make perfect gifts from Santa. Imagine Christmas without having to wait in hour-long Black Friday lines or endlessly circle the mall parking lot, desperately tailing shoppers to their cars like a private eye tailing a cheating spouse to a motel room. Plus, just think how much eggnog you'll be able to afford with all the money you save.
These culprits include wrong-sized clothes, blankets with stains of questionable origin, and large, obnoxious toys that require TEN C-size batteries and repeat benign clichés about friendship, rainbows, and trickle-down economics. You can always tell when a box of hand-me-downs is bad news because, instead of describing what's in the box, your friend cites the exact square footage she has just gained in her closet. Proceed directly to your local donation center—or dump—and don't look back.
These items will make you look at your friends and family in a whole new light. Said hand-me-downs include dubious items like menacing toy clowns, Sesame Street characters who won't stop singing (even after you've removed the batteries), and onesies that say things like "Future Pole Dancer" or "When I Can Walk, I'm Coming for Your Honor Student." You don't need these items — or their original owners for that matter — unless they have Roku and a sixty-inch TV, of course.
Ultimately, your approach to hand-me-downs is a personal decision. Just remember that every leopard-print jumpsuit you accept today is another hand-me-don't you'll have to unload on some unsuspecting parent tomorrow. Of course, one day it will be you with the infinite bags of clothes and toys claiming every available inch of space in your home. But never fear: there is always some pregnant woman somewhere who desperately wants your daughter's collection of used legwarmers and VHS copy of The Goonies.
And until you find her, you and your family can always move into the garage…
Meredith Hale is the author of Mommy A to Z: An Encyclopedia of the Joys, Wonders, and Absurdities of Motherhood. Her work has appeared on the Huffington Post, Pampers.com, and WhattoExpect.com. Follow her on Facebook, Twitter, or at her blog.