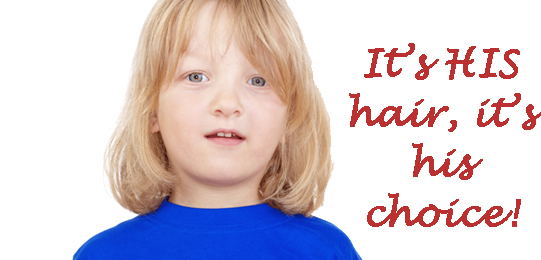 Hair Today, Gone Tomorrow
Photo by: Shutterstock
I can't remember what led up to my son having long hair. It just happened. His hair is longer than mine, longer than his sister's, longer than any of his friends. He's constantly chewing on it, and that's what bothers me about his hair. THE CHEWING. It's just totally disgusting.
I like his hair. Even if I didn't like it, it wouldn't matter. It's his hair. I don't have to wear it on my head. There are people who don't like hair, and they love to tell him this. They enjoy telling me as well. It shouldn't surprise me, but it does. Friends, family and strangers alike, all feel like they can freely express their negative opinions as if they were just making chit-chat about the weather and or how the economy sucks.
Can I just tell you how very much it confuses me when people tell me that THEY would never let their son have long hair? Well, it does. It confuses me. Why do I need to know this? I didn't ask them any questions or make any comments about their kid. I don't give my opinion on anything about their kid, except a compliment when it is deserved (and sometimes just to be nicely conversational). I find it even more baffling when a person who doesn't have children makes a comment about what they would or wouldn't do about my kid's hair, if MY kid belonged to THEM. If there was an Olympic event for keeping one's mouth shut when childless people seek to give advice to those of us raising children, I'd have a gold medal. I'd be on the Wheaties box for real. I'm that good. It's not worth it to respond to ignorance.
I swear to you that every cliché about kids growing fast has left my lips over the past month. The innocent little momma's boy who was constantly leaping around the house in superhero underpants is no longer the Velcro child that I thought would truly make me keep to my promise that he and his future wife could live with his father and I forever. He is growing so fast; physically, mentally, emotionally and spiritually. Soon he and his hair are going to be thousands of miles away. I can't let that hair come between us now. There are too many things on the horizon about which we are sure to disagree.
I have made it just over 11 years without any major battles with this kid. He is already chomping at the bit to get the hell out of Dodge, so that he can rock the skating world at UCLA (which is where he is planning to go to college). If I'm going to fight with my son, it's going to be about something important. I don't consider the length of his hair to be important. He's not breaking any rules. What he is trying to do is to learn how to be comfortable in his own skin and find out who he is. The fact is that when kids are comfortable, it is easier for them to learn and grow. If having short hair would make it more likely, that he would be more comfortable and learn more, I'd insist on a hack job that would make him look like people think he is "supposed" to look.
What has been truly interesting to both of us is the way his long hair has highlighted just how hypocritical and rude many people can be. Adults are the worst. We teach our kids to be polite, respectful and considerate, not to stare or make rude comments to people who look different. We tell them to be themselves, and that it doesn't matter what others think as long as they are being kind and doing the right thing. I'm trying to figure out why these rules don't seem to apply to certain "grown up" people when it comes to my son's choice of a hairstyle.
I don't even attempt to make excuses for the adults who can't seem to practice what they preach when it comes to breaking all of these rules with their rude, unsolicited, inconsiderate comments and behavior toward my son. I don't have to. He is wise enough that he explained it to me recently when I was upset, so now we are all good here. I'm just writing about it because he's chewing on his hair right now and it's driving me f***ing nuts, because like I said before, it's totally disgusting.
Nicole Knepper is a Licensed Clinical Professional Counselor whose blog became the basis for her first book, "Moms Who Drink and Swear: True Tales of Loving My Kids While Losing My Mind." Her unique style of writing weaves common sense, healthy psychology and humor into off-color, profanity-laced blogs for Moms Who Drink and Swear.