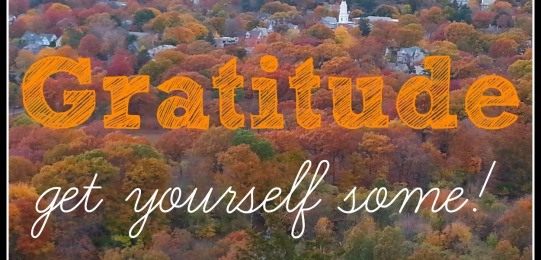 Gratitude: Get Yourself Some!
Photo by: Amy Flory
Sometimes being thankful takes practice. It is so easy to see the things that are wrong with our lives, or notice the blessings of others while overlooking our own, but giving thanks is wonderful thing. Gratitude is a feeling that eases so many disappointments, and keeping track of the good things in our lives improves mood and overall mental health. In this season where nightfall comes too early, and cold weather keeps many indoors, a bright spin on our days cannot be a bad thing.
Many people take to Facebook during the month of November to share one thing daily they are thankful for. I have done this in years past, and am sitting out this year, having learned all I could from the exercise in the previous three years. I truly feel I can see the bounty of blessings I have received, and now I'm enjoying reading everyone else's thankfulness.
I am still thankful, even though it may not be "Facebook official." Often, my gratitude runs deep. My family, my health, my marriage, and my faith are the anchors that keep me grounded. Some days, I am thankful for hot coffee, cartoons, and the perfect cocktail. Life is full of wonderful things worth celebrating, and paying attention to those things can really change attitudes.
Today I am thankful for the many friends and family members who have invested both time and money to fly across the country to visit us here in Connecticut, most recently my mother. I have amazing people in my life, and sometimes it is truly painful to be so far away from them. The gratitude I feel when we have a house filled with loved ones from home helps sustain me between visits, and makes wonderful memories for my children.
Some people keep gratitude journals to document their gratefulness year round. Others share what they are thankful for around the dinner table. One friend writes down her gratitude and puts it in a bowl. Her children do the same, and they read them all on Thanksgiving. I love the idea of teaching the kids to recognize and share thankfulness. A month of focusing on positive things always opens my eyes.
Try it, and tell me why you are thankful!
Amy and her husband made two kids, a four-year-old girl and a six-year-old boy. Amy is a Huffington Post and Families In the Loop blogger, has been featured on BlogHer, Aiming Low, Mamapedia, Scary Mommy, and Bonbon Break, and is a contributor to the books, , and . You can find Amy laughing at the absurdity of parenting on Facebook, Twitter, and Google+, and pinning things she'll never do on Pinterest. She writes embarrassing stories about her family and herself at FunnyIsFamily.com.