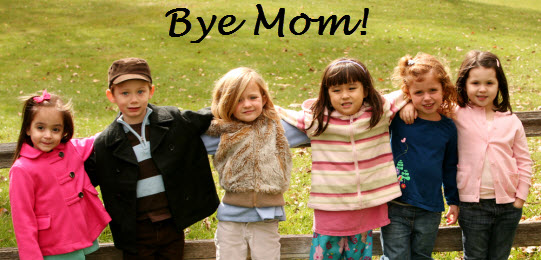 First Day of School
Photo by: Shutterstock
Bailey woke up to an alarm clock and styled her own hair. She packed her school bag and then her lunch. She said, "Mama, will you get too emotional if I ride the bus instead of you driving me?"
Uhmmm, YES.
But instead, I said, "No, baby, that's fine. You can ride the bus if you want."
We walked outside, and I snapped one quick photo with my iPhone. She didn't give me a kiss or a hug. Instead, she just smiled and I smiled back.
Bailey quickly turned and walked up the hill. Her freshly curled hair was bouncing on her shoulders. She carried a small black purse in her hand.
I watched my 6th grader climb into the school bus from across the street. I was careful not to wave or shout, "Have a good day!" or breathe or do anything else that might embarrass her.
INSTANT FLASHBACK. Bailey's first day of Kindergarten. Princess backpack. Purple bow in her hair. A smile full of baby teeth. A tiny little hand holding mine as we walked through those big hallways. Wasn't that just yesterday?
So I did what any mother would do in this situation. I cried and ate waffles.
Yep, that's how my day started off. And that was BEFORE I took Drew to his first day of Pre-K. These schools should really consider handing out vodka and Xanax at the door.
When I woke Drew up this morning, he shouted, "I don't like Pre-K! I like SLEEP!" That's my boy. He finally climbed out of bed based on promises of waffles and video games.
Hey, do I know how to charm the fellas or do I know how to charm the fellas?
Oh, did you think I actually cooked those waffles? Sorry to disappoint. I promised my kids a good breakfast on the first day of school. I did not promise them I would cook it.
Waffle House does to-go orders and they're open 24 hours a day. Remember that the next time you want to impress your children or your in-laws. My hashbrowns taste just like Waffle House's? Really? Well, I'll be…
Since Drew has a November birthday, he has until he starts Kindergarten. The English to Werdyablish translation: "WHAT? I have to pay daycare for an extra year?! I wish I'd thought about this on Valentine's Day, 2008." 'wink'
Drew's school was nice enough to move him into the Pre-K room early. It's especially good considering that Drew has become so snobby about kids who aren't potty trained.
"I don't like to play with William. His butt always stinks like poop." -Drew, last week.
So this means that Drew will have two years in Pre-K. This morning, I felt like I should do him a solid and said, "Listen, dude-go ahead and color outside the lines and try putting a round peg in a square hole. No matter what you do, you're getting held back this year."
When we walked into his classroom, the children were sitting completely still and quiet. Nobody made a sound. Seeing all those perfectly behaved 4-year-olds kind of scared me a little.
So I have two questions for Drew's teacher:
What kind of drug did you give those kids?
Where can I get it?
Drew turned to me and said, "Bye, Mama! I've got to go to Pre-K now." And just like that, he was gone. No tears. No hugs. No clutching my left leg until it loses circulation. Just "Bye, Mama!"
It was an emotional first day of school. Not for the kids, no, they were fine. It was emotional for me.
Growing up is tough on us moms.
Amanda is metro-Atlanta working mother of two, with a passion for writing and overpriced shoes. She says blogging saves her money, but doesn't look nearly as good with a cocktail dress. Visit Amanda at Werdyab.