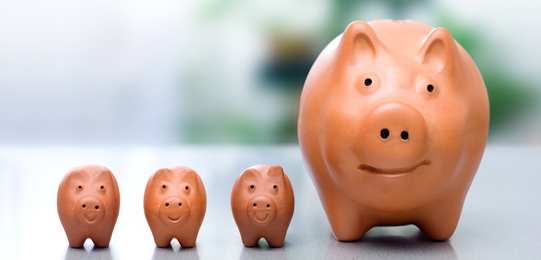 Dollars and Sense
Photo by: Shutterstock
SIMPLY 'THE BEST' – BEST MOM WISDOM
Best Mom Wisdom is a twice weekly opportunity to sample 'the best' from the Mamasource archives.
*********************************************************************************************************************************
Dollars and Sense
In honor of National Teach Your Child to Save Day, we asked Mamapedia mamas to share fun and clever ways they are teaching their children to save money. Here are several of our favorites:
Joanna J. from Bethlehem answers:
Being a single mom, I am limited, so they (ages 4 and 6) get a nickel for each chore. At the end of the week we add it all up. Some weeks they get 20 cents, other weeks two dollars, depending how much they did.
We were at the dollar store yesterday and they both opted to buy two things and spend two dollars of their own money. They are learning about money at this point, and I think learning about saving will come later. If you have older kids, you could open a savings account for them. The kids can actually go online and see their money, and tools show them about saving, etc.
T F. from Plano answers:
Children will model your behavior.
Our daughter models us. She knows we live debt-free and it takes a lot of self-discipline and delayed gratification. She knows these two characteristics and being debt free are needed in order to achieve wealth. She also knows the importance of giving.
We started her at a very young age with her money and she tends to not spend unless she really needs something because she likes looking at her savings balance.
Catherine C. from San Francisco answers:
My kids can work "overtime" – that is, do extra chores. They also look forward to losing teeth, because the tooth fairy brings them a $1 coin for each tooth.
The funny thing is, my kids have really gained clarity on the value of money now that they earn it themselves and have to save up for things they want. When they've had to work to save up to buy something expensive, they all of a sudden start to re-think whether or not they really want/need the item. My older daughter (9 years old) has quite the savings account now simply because she has become something of a minimalist in terms of what she feels she really "needs."
Ally G. from Houston answers:
My son has 3 jars (cuz I'm too cheap to buy piggy banks lol). He gets an allowance after doing chores each week. Half the money goes into the "savings" jar, the other half is split between a "goal" jar and the other goes into the "spending" jar. Savings is for emergencies or important things and he basically doesn't get to spend it until he is out of the house. The goal jar is saving for something he specifically wants. Right now he wants a new basketball net. We told him we'd pay for half if he saves up the other half. The spending jar is just that – its what he keeps in his wallet (in my purse) and he can spend it on anything he wants – baseball cards, a horn for his bike, a new eraser, popsicles – whatever he wants.
Kristina M. from Streamwood answers:
Well, my son finds coins around the house, and he can keep one and put the rest in the coin jar for "savings." He often puts them all in.

You can go online or thru a magazine and find an item you each want to save up for – a new handbag, a new video game. Clip/print the picture and make a thermometer thing. Get a piggy bank for each of you (dollar store) and make a big deal of it.
Itsacrazylifewith5 from Chicago answers:
Give them a goal. My kids have things they want and save up for it. If they complain they want to see a movie, but don't have the money, I tell them they need to save for it. They do spend some of their money, but not all. My girls had to pay for half of a camping trip they are going on, plus they have to buy their supplies themselves. My daughter saved up her own money to buy her own IPod because I was not paying for it. Now she saves her money to buy songs and stuff,
⊱♥Christy♥Lee♥⊰ from Jefferson City answers:
We have envelopes – one says "Savings-20% Minimum" and the other says "Tithe-10% Minimum." I told them that when they reach $25 in the savings envelope, I'll take them down to the bank and open them each a bank account of their own.
Have a special way you are teaching your children to save? Please comment below.