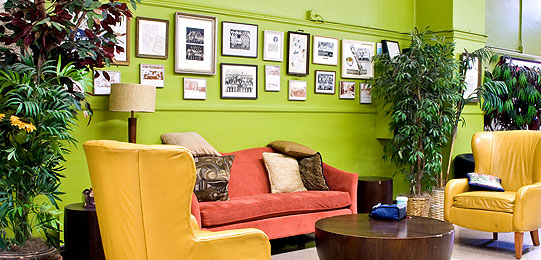 How Enticing is Your Neighborhood School? Create Some Chemistry
Photo by: Angie Garbot, "School Living Room"
A public school needs to be more than clean and well run to attract skeptical prospective parents; it needs to radiate creativity, quality, and warmth. Fortunately, our school, Nettelhorst, had great bones: soaring twenty-foot ceilings, large double-hung windows, and dark wooden moldings, but we needed conjure up some chemistry. And fast. Our principal needed to take a good hard look at the building through the eyes of a neighborhood parent, someone who was likely well educated, discerning, badge-conscious, and deeply fearful of Chicago's public schools.
We first looked to the school's exterior. Many improvements are relatively simple and inexpensive:
Raise the window shades so that neighbors can see a happy school "in action." Hide anything spooky.
Leave on classroom lights that face the street.
Remove any negative outdoor signage.
Paint exterior doors cherry red or deep blue (or go wild!)
Replace exterior lighting.
Display colorful kids artwork in the windows.
Make sure the main entrance looks like one.
Clean up any graffiti or garbage.
Security measures should only scare the bad guys. Know your audience.
If your school looks and feels like a penitentiary, why would anyone venture inside? It's hard to invite the neighborhood to come in if all your doors are brown and locked.
As you tackle each interior renovation project, ask logistical questions: When parents enter the school, where will they store strollers or hang their coats? When waiting in the office, where will they sit? How will parents entertain their toddlers while at the school? Where can they change a diaper? Try to imagine a prospective parents' experience from the moment they hit the front door to the time they find their way into the library.
If the school environment meets the needs of teachers and students, even the most jaded visitor will take notice. Create spaces that encourage community building and facilitate the home-school connection. Most prospective parents chose a school by their "gut" instinct. What would make your husband, your mom, or your best friend feel comfortable?
So how can you gussy-up with a budget of nothing? Our team just had the audacity to ask, and ask, and ask again. We started by cracking open the local phone book and cold-calling merchants. We found that most people couldn't give a substantial amount of any one product, but if we sounded earnest, and promised to pick donations right away, most offered to give what they could. We never asked for money (don't worry, Fundraising 101's coming later).
Tips to keep projects moving forward and good karma flowing
Show up with doughnuts at the start of any job and bring beer at the end.
Cheer lead throughout and be be enthusiastic.
Take tons of before and after pictures.
Send thank you notes and tax letters promptly. Include gushy student posters and photos of the project.
Promise to recognize donors via mentions in newsletters, the Web site, the school directory, the chamber of commerce, etc.
Make friends with your school's building engineer. Nothing can happen to without his approval.
Respect building codes. The fire department is a sleeping gorilla you don't want to wake up.
Learn the unwritten codes of the teaching and maintenance staff. Know when you're breaking the rules. Oftentimes, it's easier to ask forgiveness afterward than ask for permission first.
Keep your principal abreast of your progress and seek her counsel.
When forced to seek opinions, present only limited choices (like a toddler: Do you like the blue sweater or the green one?). For larger projects, only consult the stakeholders who matter.
The maintenance staff is overworked already— clean up your own mess.

In just two years, our team amassed over a half-million dollars in goods and services, all channeled with love and affection into renovating the school. Most donations came from small independent companies that didn't have pro bono budgets or formal community service missions. Take a virtual tour. I promise, it will knock your socks off!
Keys to Begging and Scavenging
Ask your local paint store manager to donate miss-tints, and ask for potential leads for professionals to apply it. Professional painters can adopt classrooms and hallways, working off the clock at night or on weekends.
Solicit professional artists who share your design esthetic. Find artists through museums, galleries, art schools and street fairs.
Give artists the freedom to paint whatever they want so long it isn't scary or phallic. Ask for mock-up to give the principal before work starts.
Don't expect professional artists to be teachers or babysitters. Chances are, your artists will prefer grown-up helpers. Kids can add cute kid flourishes at the end.
Have supplies on hand so that workers can do their job (ladders, buckets, etc.).
Ask visual managers if you can have the window displays after they're swapped out.
Don't be slow to pick-up donations! Find the parents with minivans or pickup trucks so you can act quickly.
If a business is closing, ask if you can pick over the remains or clear-out the infrastructure. If the owner says no (usually due to liability or lease constraints), return immediately after it closes, when the demolition workers arrive. Most laborers are more than happy to let parents cart stuff off their site.
Mine thrift stores, dumpsters, and yard sales. Post your needs on CraigsList and Donors Choose.
Say

YES

!
One of the joys of needing everything is that anything you get is just perfect.
Accepted wisdom says that effective change requires consensus and buy-in. Not so—particularly in matters of aesthetics. As long as your principal and engineer sign off, don't be afraid to forge ahead. Be gracious, but expect some blow back. While our principal and engineer were on board for change, not everyone was overjoyed with the transformation. Again, our experience wasn't all sunshine and unicorns: some disgruntled staff members cursed us, and some even tried to sabotage projects. Naysayers will come around when they see what's possible (or they won't). Dream big.
We suspected that an inspired environment would compel prospective parents to stick around long enough to listen to our pitch, but we couldn't have predicted that gussying-up would set our revolution into hyper-drive. Conventional wisdom says that school environments only change after the culture changes. We found that by changing the school environment first, the school's culture improved dramatically. Like Pop Rocks.
Do you have questions or comments for me about getting involved in your neighborhood school? Just ask below in the Comments and I'll answer them. Thank you.
Editor's Note This is a followup article to Jacqueline's earlier posts: How to Walk to School, and Getting Involved…. Her book, How to Walk to School, can be purchased at the Mamapedia Store on Amazon.com.