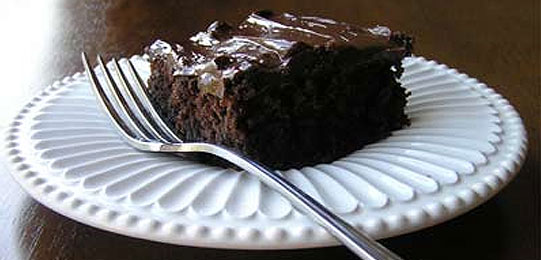 Chocolate Birthday Cake with Whipped Chocolate Frosting
Photo by: NPA
Cooking for Isaiah is a love story of Silvana Nardone's journey to develop great-tasting meals for her son, Isaiah, after he was diagnosed with food intolerances to gluten and dairy.
If you overwhip the chocolate frosting, just add water, a drizzle at a time, to make it glossy and smooth again.
SERVES 12
PREP TIME 30 minutes (plus cooling)
COOK TIME 30 minutes
Cake
2 tablespoons instant espresso powder
1 cup boiling water
½ cup cold water
2 tablespoons pure vanilla extract
½ cup vegetable oil
2 large eggs, at room temperature
2 cups gluten-free flour
¾ cup unsweetened cocoa powder
1 cup packed light brown sugar
1 cup granulated sugar
2 teaspoons baking powder
1 teaspoon baking soda
1 teaspoon salt
Frosting
3 cups semisweet chocolate chips
1½ cups water
1. Preheat the oven to 350°F. Grease two 9-inch (22.5-cm) round cake pans with cooking spray; line the bottoms with parchment paper and grease the paper. To make the cake, in a small bowl, whisk together the espresso powder and boiling water; let cool slightly. Whisk in the cold water, vanilla, oil and eggs.
2. In a large bowl, whisk together the flour, cocoa powder, brown sugar, granulated sugar, baking powder, baking soda and salt. Whisk the egg mixture into the flour mixture until just combined; divide the batter between the prepared pans. Bake until springy to the touch and a toothpick inserted in the center comes out clean, 25 to 30 minutes. Let cool completely in the pans set on a wire rack.
3. To make the frosting, in a large microwavable bowl, melt together the chocolate chips and water on high power, about 2 minutes; stir until smooth, and let cool to room temperature. With a handheld electric mixer, beat the chocolate mixture on medium-high speed until light and whipped, about 12 minutes.
4. Run a knife around the edges of the pans to release the layers. Invert one cake layer onto a cake plate, flat side facing up. Using an offset spatula or butter knife, spread about 2 cups of the whipped chocolate frosting evenly on top. Invert the remaining cake layer, rounded side up, onto the frosting. Frost the top and sides of the cake with the remaining frosting. Refrigerate for about 30 minutes before slicing.
Silvana Nardone, author of Cooking for Isaiah: Gluten-Free & Dairy-Free Recipes for Easy, Delicious Meals is the founding editor in chief of Every Day with Rachel Ray magazine, where she is also the 'No-Recipe Zone' and 'Sweet Spot' columnist. A writer, editor, cooking instructor and food consultant, Silvana is the coauthor of Saveur Cooks Authentic Italian. Previously, Silvana was an editor at Food & Wine magazine before opening her Italian bakery, Fanciulla. She has appeared on many national television shows. She has also been featured in the New York Times and in New York magazine. Silvana lives in Brooklyn, New York, with her husband, Stephen, and their two children, Isaiah, 13, and Chiara, 4.
Editor's note: Leave your comments below and you could be a lucky winner of Silvana's book Cooking for Isaiah!