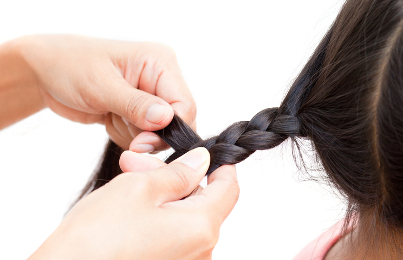 Braiding Her Hair
Photo by: Shutterstock
She's twelve now and she stands almost eye to eye with me. With each day, she's becoming more independent, and more sure of herself. She likes reading and painting, swimming and fashion. She doesn't like spiders or scary movies or going to bed early.
It seems like moments have been speeding into days and weeks lately, each one passing more quickly than I want it to. And with each tick of the clock, I feel it: she's growing up, this pre-teen of mine.
Just a couple weeks ago, she volunteered (on her own) to be a special needs buddy at a camp at one of our local churches. She loved it so much, she volunteered at our church to do the same thing this week. It was beautiful to see her nurture and care for the younger kids that she helped—a first grader and a four-year-old.
It wasn't long ago she was that age. (At least that's how it seems to me.)
But even though she's growing up, almost every night she comes and finds me, and sits down next to me, handing me her brush and two hair bands.
"Can you braid my hair?" she asks. (She likes it wavy the next day.)
I brush her hair and part it down the middle. As I start my own version of a French braid (because I've never been able to do a good one), we talk… She tells me how much fun she had at the water park last week, and how she hopes she'll get into the broadcasting class at her school this year. She tells me she wants to call her friend Katherine when she gets back from vacation so she can have her over to swim.
I nod and listen, and smile, loving the details she's sharing, loving the fact that she still tells me so much about her feelings and her life, and hoping that doesn't change, at least not too quickly.
"Braid it neatly," she says, running her hands over her head to check how I'm doing. I laugh inside, remembering how I used to tell my mom the same thing when she braided my hair.
I finish one side and reach for the hair band. And I smile again. Because they aren't matching; one is blue and one is pink… it's so her: artsy, whimsical, fun.
I look at her fingernails as I twist the hair band around the end of her braid. Four of her fingers on each hand are painted green, and one—her ring finger—is painted pink. I love the fact that she's comfortable doing something out of the ordinary and different like that, because I never was.
"Your nails look pretty," I say. She holds both hands up and smiles. "Thanks."
I start on the second braid, slowing down, not wanting these few minutes to end. Finally, I weave the last three strands together and twist the pink hair band around the end. "There you go," I say, kissing the top of her head.
She runs her hands over both of the braids. "Thanks, Mommy," she says, "You did good." Then she pops up and runs out of the room.
I pick up the brush and cradle it in my hands, realizing how much I love this time with her, these few minutes each night… these few minutes of braiding her hair, that are really much more than that.
Genny Heikka is a mom, author, blogger, book reviewer and coffee lover. Stop by her blog My Cup 2 Yours and share a cup!