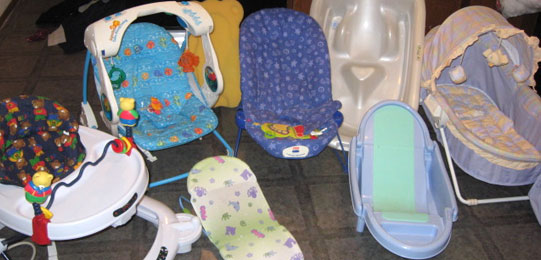 Be a Smart Gearhead
Photo by: Redhedgrrl
In our vigilance to be armed and ready for parenthood, we tend to buy more gear than we need – electric bottle warmers, baby gyms, kid corrals. How did our parents ever survive without them? Quite easily. Are most of them necessary? Of course not.
Before buying, investigate consumer feedback on consumer web sites or ask around to see whether or not others got any use out of them.
From a health standpoint, the goal is to avoid bringing unnecessary plastic and foam containing plasticizers, flame retardants, and heavy metals into your home. I've broken my nose three times, so it was Jessica who had to point out to me that the new infant car seat I'd just pulled out of the box had a strong chemical smell. If a piece of equipment is too malodorous, put it on the porch or in the garage to air it out for a day or even longer, if possible. After a week, I brought our seat inside. "Now?" I asked. "Still stinks," she said. One week later it passed the sniff test.
Here are a few recommendations to be a smart gearhead. What are you using? Do you know of safer solutions?
High chairs:
Like all children's gear, high chairs are regulated by the Consumer Product Safety Commission; if you're in the market for one, you can find recall information on the CPSC site. Another good resource is Consumer Reports, which tests kids' gear for safety. One other thing to keep in mind: Some foam-padded high chairs may contain polyurethane foam in the cushion. You can find beautiful, durable wooden high chairs with natural cushions on many green design and children's gear web sites; some even convert to chairs that can be lowered and pulled up to the table once your toddler outgrows them.
Car seats:
In 2007, a Michigan environmental group named Ecology Center released a study indicating unwanted chemicals like chlorine, bromine, and lead could be leaching from car seats. Of the sixty-two car seat models they tested, 30 percent had elevated levels of the chemicals; the two biggest culprits were PVCs and flame retardants. (Those free of the chemicals included the Graco SnugRide [Emerson] and EvenFlo Discovery-Churchill infant seats.) For a list of the best and worst seats, check out healthycar.org. No matter which car seat model you buy, however, air it out for a few days in your yard or other outdoor space.
Saucer entertainers and swings:
These items provide great baby distraction when you need to cook or do any task requiring arms. In other words, they've become pretty indispensable. They may also be stimulating, in a good way. I'm not suggesting you carry your baby at all times – though baby carrying is experiencing a renaissance among modern parents, who've read of the calming effect to babies of the constant jiggling and warmth of being snuggled up against a parent's chest or back. But think hard before making this purchase. For one, both types of items are made of huge pieces of molded plastic, which as you know can release fumes for a while after they're out of the box. Also, your baby will be able to suck and even chew on some of the attached plastic toys. Perhaps the best compromise is to get a used one. And to pay it forward when you're done by reselling, donating, or Freecycling it.
Cribs and mattresses:
Nearly all conventional baby mattresses today use materials that contain unwanted and potentially harmful ingredients like flame retardants and formaldehyde. If you can, opt for an organic mattress, made of cotton or wool or both, and consider a naturally finished wood crib.
Healthy Child Healthy World is a 501©(3) nonprofit inspiring parents to protect young children from harmful chemicals.