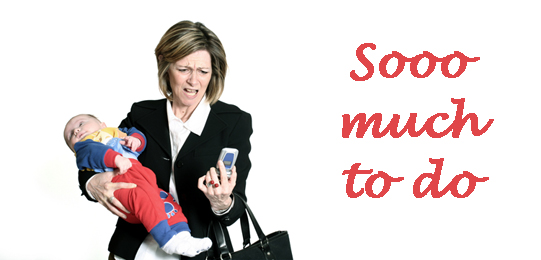 Are We Better Off Than Our Mothers?
Photo by: Shutterstock
After an exhausting evening of parenting, I stood in the shower thinking of all the things I still needed to do. Some of them were practical household tasks that needed to be completed, some were errands that needed to be run, but most involved my computer or phone.
I work part time, and while it often seems like the best of both worlds, there are moments when it feels like the worst of both worlds. I struggle with the fact that I feel pulled in so many directions. While I genuinely love teaching my classes and my writing and blogging make me feel extremely fulfilled, adding them into the already precarious balance of spending time with my kids and maintaining some kind of a social life is not always easy.
I have been thinking lately about what it must have been like for my mom to be a SAHM in the 80s. Was she as fulfilled as I am? Happier and more relaxed? More stressed? Sure, we lived in the same house, but my perspective at the time was that of a child. Even though I enjoyed a relatively happy and drama-free childhood, how much could I really understand about my parents when I was growing up?
My mom stayed home with us, but she was also very busy with volunteer activities, PTA, etc., and had plenty of friends that she regularly spent time with. We had great neighbors, and had frequent 'play dates,' though nobody called it that back then.
When I was growing up, there was no worldwide web for moms to 'anonymously' air their parenting grievances; no online resources; no support groups where a mom could vent, complain, or cry with relief when reading about another woman's similar experience. There were no blogs where one could feel connected to another mom, even if they had never met.
At the time, perhaps it was not as socially acceptable to express one's feelings – or ambivalence – about motherhood. But on the flip side, I am sometimes embarrassed by how much time I spend clicking away at the keyboard (or iPhone) either tweeting, posting on Facebook, reading blogs, returning texts, or perusing online parenting communities.
Sure, the phone rang at our house when I was growing up, and sure, sometimes my mom talked on it, but she was never attached to it.
Is this new era of parenting (or even just living) in the modern world a blessing or a curse?
I feel like I am constantly returning text messages or replying to a comment someone left on my blog; and feel strangely connected to my online friends through their hilarious tweets, relatable posts, and virtual camaraderie.
So what did 1980s moms do to relieve stress? How did they cope with their parenting frustrations? I don't even remember my mom drinking wine when I was little kid, and didn't even notice it until I was nearly a teen. (I do remember we used to tease her for drinking white wine out of a plastic 'I Love Jesus' cup!) Back then, moms certainly didn't brag about wearing yoga pants everywhere, and I don't recall my mom tossing on her pajama bottoms with relief the second the clock struck four, like I so often do.
So here is my assertion: perhaps moms back then were more isolated in some ways, had less emotional freedom, but also fewer distractions. Maybe in some ways they were less overwhelmed.
I can't decide if there is more or less pressure now. Perhaps there was more pressure to be perfect and maintain the facade that you had it all together. However, things were certainly simpler in so many ways. Right now I feel like I have so many plates in the air, and it is difficult for me to determine which one of them is acceptable to break. Or at the very least, set down.
Do you think it is easier or harder to be a parent now than it was for your own parents when you were growing up?
Stephanie Sprenger is the mother of two daughters, ages six and almost one. As a control freak living amongst chaos, blogging has been a satisfying outlet for her parental angst; combining her passion for writing and helping mothers connect, at Mommy, For Real.