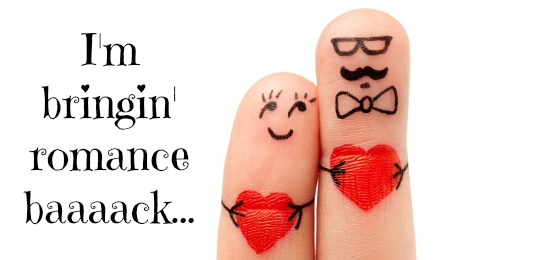 5 Ways I'm Bringing Romance Back to This Holiday... Or Not
Photo by: iStock
For the past week I've been buying boxes of Valentine's Day cards, trying to maintain the right princess-to-superhero ratio for my daughter's kindergarten class (since, heaven forbid, we buy something gender neutral that doesn't involve Arial or Cinderella). I've been covertly purchasing tiny boxes of chocolates attached to tiny teddy bears, making mailboxes out of shoe boxes and construction paper, digging through drawers for red outfits the kids can wear on the big day.
And then, with just three days to go, it hit me: Isn't some part of this holiday supposed to be about, you know, me and my husband? Shouldn't I be thinking about love and romance — all that stuff being advertised on channels that aren't Nick Jr.?
It's been years since we've even attempted to get a babysitter on Valentine's Day, mostly because I'm too embarrassed to suggest that our sitter has nothing better to do on Valentine's Day than wipe my son's butt. Asking a woman if she's free on Valentine's Day is a bit like asking if she's pregnant. If you don't know, don't ask.
Yet, just because we're not hitting the town doesn't mean that we can't have a bit of romance this holiday. Here are 5 ways I'm bringing sexy back this Valentine's Day.
1. 50 shades of everyday. I'm getting creative this Valentine's Day. Forget the card. I'm getting my husband something black and leather that will perfectly fit his junk. Yes, you guessed it, a new computer bag! Forget the lapdance. It's all about the laptop, baby.
2. Nothing cheesy about it. We've spent the last few holidays dining at Friendly's. Amateur hour. This year we're taking it up a notch, going somewhere classy. (Plus, I'm pretty sure Friendly's closed.) This year, we're going to the Cheesecake Factory. Because nothing's hotter than a ridiculously oversized salad followed by a ridiculously oversized slice of cheesecake. Our toddler may be attempting to leap from his high chair onto the table, while our kindergartner narrates like she's announcing a WWE match. But, hey, it's cheesecake.
3. Hitting the hard stuff. Forget the candy conversation hearts, or those heart-shaped Russell Stover classics. That's fine for the kids. This year I'm bypassing the girly amusements and going straight for the hard stuff: Cadbury Easter eggs. Cheap, disgusting, and addictive. Just how I like my chocolate. A few of these, and I'll be ready for a wild night… of getting the kids bathed and in bed, of course.
4. Dancing the night away. Assuming anyone is still conscious after all that chocolate and cheesecake, there's a hair metal dance party in our living room, of course. Because there's nothing more romantic than dancing to _Poison) with the man you love… especially with two small children howling "rose" and "thorn" in the background while attempting to dismantle the couch.
5. Up all night. The kids are in their rooms, asleep, and now it's time for Mommy and Daddy's special evening to begin. It's going to be a wild, crazy night… that may even last past 10 o'clock! A champagne (or ginger ale) toast to the happy couple, at least one of whom is already asleep. Ah, romance…
Yes, Valentine's Day has changed since my husband and I were young and carefree. But while expensive dinners and clubs were fun at the time, there is a deeper connection that inspires our relationship today. We've patched up boo-boos together, survived sleepless nights together, raced on beaches together, deciphered first sentences together, learned what true strength is together, fought and made up a thousand times together.
And if that's not romantic, I don't know what is.
Meredith Hale is the author of Mommy A to Z: An Encyclopedia of the Joys, Wonders, and Absurdities of Motherhood. Her work has appeared on the Huffington Post, TheWashingtonPost.com, and WhattoExpect.com. Follow her on Facebook, Twitter, or at her blog.